Have you registered?: TAO scheduled for August 17 & 18, 2011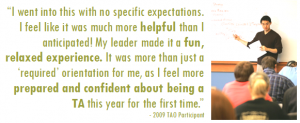 Teaching Assistant Orientation (TAO) will be held on August 17 and 18, 2011 in Buttrick Hall. TAO is intended for all graduate students who will begin teaching assistant (TA) duties during the 2011-12 school year. Teaching Assistants should register for the event by August 8, 2011. Information about this event is also available on the CFT website or you can view the attached flyer which includes the schedule for this event.  
If you are an international student who will be a TA, you should do the following:
Complete the ITA online orientation prior to arriving at Vanderbilt.
Speak with your department to determine if you need to schedule a Language Assessment with the English Language Center.
Attend Teaching Assistant Orientation (TAO).  
Please see the CFT website for more details.