PowerPoint Makeover Clinic – Resources & Popular Tips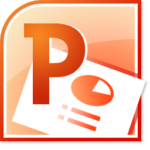 Last Friday, Stacey Kizer had the opportunity to share some of her favorite PowerPoint 2010 tips with faculty and staff during the PowerPoint Makeover Clinic.
Here are some of the favorites from that workshop:
SmartArt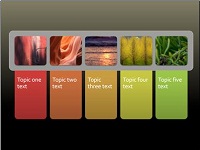 Not to be confused with WordArt, a SmartArt graphic is a visual representation of your information that you can quickly and easily create, choosing from among many different layouts, to effectively communicate your message or ideas.
Powerpoint makes it quick & easy to convert bulleted text on your slide to a graphic with the "Convert to SmartArt" button located on the Home tab. Office.com also has instructions for inserting custom SmartArt.
Another helpful resource related to SmartArt: Office's massive list of downloadable SmartArt slides that come with instructions in the Slide Notes. These are easy to customize and insert into any presentation. The free, downloadable slides include animated graphics for organizational charts, process maps, topical lists, and hierarchies. Find these online at: http://office.microsoft.com/en-us/powerpoint-help/free-animated-organizational-charts-with-smartart-graphics-for-powerpoint-2007-presentations-HA010285586.aspx
Image Editing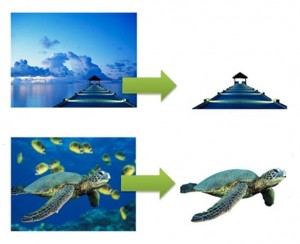 The "Remove Background from Image" tool, shown here, removes elements of an image that you select and leaves only parts of the images that you specificy — perfect for those pesky white backgrounds or for a distracting background.
This video from Office.com is a great resource for learning how to use this tool.
During the workshop, the Artistic Effects and Corrections tools, as well as where to find images online, were discussed.
YouTube Videos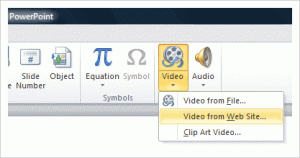 Linking to a YouTube video in your PowerPoint 2010 presentation is easier than ever with the "Insert Video from Website" button. It's as simple as locating the video you want to include, obtaining the (old!) embed code, and inserting that code into your slide. Detailed instructions and an example are available here: http://office.microsoft.com/en-us/powerpoint-help/link-to-a-video-on-youtube-from-powerpoint-2010-HA102636549.aspx?CTT=1
Presenter View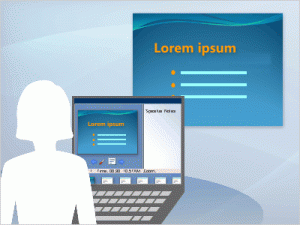 Using Presenter View is a great way to view your presentation with speaker notes on one computer (your laptop, for example), while your audience views the notes-free presentation on a different monitor (projected on a larger screen, for example). It takes a bit of configuration, but once you've learned the settings on your laptop it's easy to give a presentation while you privately view your notes on your own computer. Resources from Office.com include set up instructions and are available here: http://office.microsoft.com/en-us/powerpoint-help/view-your-speaker-notes-privately-while-delivering-a-presentation-on-multiple-monitors-HA010067383.aspx?CTT=5&origin=HP010374495
The workshop also reviewed some of the basics regarding academic presentations:
Visuals should help students to understand material. Use helpful concepts such as: a timeline, process, map, matrix or graph. Use PowerPoint tools such as SmartArt to create simple graphics. Don't feel it's necessary to use visual aids for all material. Prioritize the areas where visuals will most help – definitions of concepts, relationships, presentation structure and comparisons, examples, and for summary.

Use the whiteboard. Not everything needs to be prepared in PowerPoint in advance, and drawing "live" on a whiteboard can be engaging for students.

Don't read aloud when the audience are reading for themselves.

Use media in your presentations- Show photographs that demonstrate a point or illustrate an issue.- Use video clips. You can embed video from YouTube, and PowerPoint has many added features for editing video files.

A presentation isn't a handout. Don't worry about slide count. Be prepared to use more slides, but with less content on each slide. Remember because the slides won't be printed as handouts, they won't waste paper.Produce handouts in Word, not PowerPoint. (Or print the Outline view). Consider recording narration if distributing slides to students.