From the Stacks…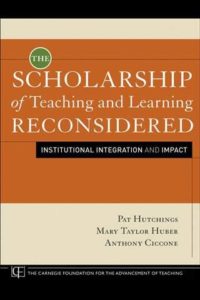 The Scholarship of Teaching and Learning Reconsidered: Institutional Integration and Impact
By Pat Hutchings, Mary Taylor Huber, and Anthony Ciccone
From the publisher…

The authors, all of whom continue to be involved in this work, imagine a future "where the scholarship of teaching and learning is not seen as the discrete project or special initiative, but as a set of practices that are critical to achieving the institution's core goals for student learning and success."
The authors offer recommendations for leaders eager to support a transformation in the intellectual culture of higher education.
Understand and communicate an integrated vision of the scholarship of teaching and learning across the institution so that its practices can be applied broadly in course design, curricular development, professional development, and assessment.
Foster an exchange between leaders from the assessment and institutional research community and those involved in the scholarship of teaching and learning to establish a system of evidence gathering that can be used for internal improvement and external reporting.
Work to bring tenure and promotion decisions into alignment with a view of teaching as scholarly work.
Recognize that institutionalization of the scholarship of teaching and learning is a long process that requires sustained leadership and creativity
Available in the Center for Teaching library.