From the Stacks…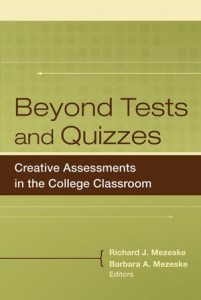 Beyond Tests and Quizzes : Creative Assessments in the College Classroom
by Richard J. Mezeske
From the publisher…
Because the drive toward external assessment speaks almost exclusively in terms of standardized testing, we need to be reminded of the internal purposes of assessment: measuring learning for both student and teacher so that instruction can be adjusted and improved.
This book is written for college instructors who are striving to creatively change assessment practice to better reflect learner-centered teaching. It is intended to consider not only the multiple ways in which individuals learn content, but also the multiple avenues to assessment the variety of learning styles demands.
Available in the Center for Teaching library.