New Podcast Series Highlights Student Projects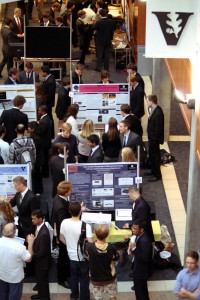 In an effort to better understand student learning, particularly deep learning, as it occurs at Vanderbilt, the CFT is producing a special series of podcasts highlighting student projects across a variety of disciplines.
In the first episode we visited Engineering's Senior Design Day and talked with chemical and mechanical engineering students about what they learned while collaborating on their senior design project, one that resulted in a spinach-powered solar cell.  Listen to this podcast.
In the most recent episode we joined graduating senior Juliana Bednarski, a psychology and philosophy major, at Psychology Day where she tells how her research project drew on her other learning experiences at Vanderbilt and prepared her for a career in clinical psychology. Listen to this podcast
For more perspectives on undergraduate research, see our teaching guide about one-on-one teaching and independent studies. Our guide on mentoring graduate students also has advice relevant to supervising undergraduate research.