From the Stacks…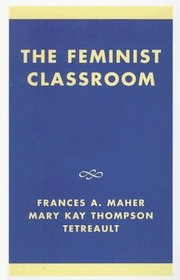 The Feminist Classroom by Frances A. Maher and Mary Kay Thompson Tetreault
From the publisher…
This book provides an intimate view of how feminist teachers are revolutionizing higher education. Drawing on in-depth interviews and on-site observations, and using the actual words of students and teachers, the authors take the reader into the classrooms of seventeen feminist college professors at six colleges and universities – Lewis and Clark College, Wheaton College, the University of Arizona, Towson State University, Spelman College, and San Francisco State University.
As these teachers integrate feminist and multicultural content into the curriculum, they demonstrate that pedagogy concerns not only "teaching techniques" but the whole process of the construction of knowledge in classrooms. Learning derives from relationships and interactions among teachers, students, and subject materials, not from any single perspective. In showing how the integration of feminist and multicultural content revitalizes the classroom, the book portrays innovative teaching in action.
This important book presents a vision of teaching that counteracts the silence and alienation these practices engender.
Available in the Center for Teaching library.