Grad Students, Come Work at the CFT!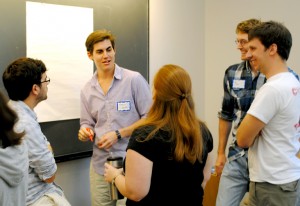 The Center for Teaching is now accepting applications for its 2013-14 Graduate Teaching Fellow and Teaching Affiliate positions.
Graduate Teaching Fellows (GTFs) are employed for the entire academic year, engage in a variety of CFT activities around training and supporting Teaching Assistants across the university, and are paid $20,000 August – May.
Teaching Affiliates prepare and lead sessions at our annual Teaching Assistant Orientation in August, working about 70 hours total (mostly in August), and are paid $1000.
These positions are great opportunities for graduate students to refine their teaching and presentation skills, network with graduate students outside of their department or program, and develop expertise in training and supporting new TAs. Every year, our Teaching Affiliates and GTFs tell us how much they enjoyed and benefited from their experience working at the CFT.
Additional information and application instructions can be found here.
Applications are due Friday, March 1st.