GradSTEP 2014: Students as Producers Sneak Peek at Session 2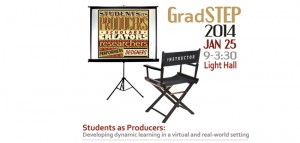 GradSTEP 2014 will focus on Students as Producers: Developing dynamic learning in a virtual and real-world setting and will be held:
Saturday, January 25th,
9:00 a.m. – 3:30 p.m. in Light Hall.
Integrating Research and Design Projects into Courses
Cynthia Brame,  CFT Assistant Director
Joel Barnett,  Associate Professor of the Practice, Mechanical Engineering
This workshop will examine a research project and a design project that have been integrated into credit-bearing courses. Professor Joel Barnett will talk about "turning the textbook inside out" to create small design projects, and Dr. Cynthia Brame will discuss her experience adapting small chunks of a research project for a class. These examples will be used to illustrate key lessons for integration of research and design projects into an undergraduate curriculum. Workshop participants will discuss benefits and challenges of integrating research and design into classes as it applies to their future courses.

Professional Development for Humanities Social Science Education & Religion
Ruth Schemmer, Assistant Dean, Graduate School
Graduate students are competent, hard-working, intelligent people – but many feel inadequate when seeking a career. Explore what skills are needed in the world of work, how to find out what they are, and how to prove you have them!

Active Student Learning at the Introductory Level
Nayana Bose, CFT Graduate Teaching Fellow

We lecture, they listen. They study, we test. This session will workshop howto engage students to generate active student participation, receive regular feedback using quick and effective methods, and get students to apply the material to deepen their understanding of the subject.
Team-based Learning
Oscar Ayala, Graduate Teaching Fellow
Team-based learning is one way to implement the flipped classroom. Students prepare before class by reading or watching instructor-prepared videos and complete individual readiness assessment tests.  The interesting part occurs in class: students repeat the assessment test as groups, who argue, teach each other, and ultimately reach a greater understanding of the material. These groups then apply that knowledge by completing projects that are real-world illustrations of the material. This interactive session will allow participants to learn this technique from the perspective of both the instructor and the student.
All Vanderbilt graduate & professional students, and post-doctoral fellows, can register
here
for this free, daylong conference, offering workshops and discussions centered on teaching, learning, and professional development issues, across the disciplines.