GradSTEP 2014: Students as Producers – Sneak Peek at the Plenary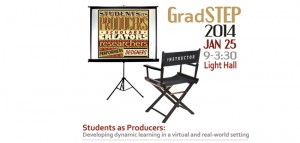 GradSTEP 2014
will focus on
Students as Producers: Developing dynamic learning in a virtual and real-world setting
and will be held:
Saturday, January 25th,
9:00 a.m. – 3:30 p.m. in Light Hall.
The plenary session will feature
Dr. Cynthia Cyrus (Musicology) and Dr. Joe Bandy (Sociology).
This panel examines two examples in which Vanderbilt faculty enable students to produce work for authentic audiences.
Professor Cynthia Cyrus and Blair school student Arlyn Goodrich will focus on course assignments involving "public facing scholarship" that invite undergraduates to contribute to the world of knowledge as part of their learning practices. The students in a seminar on Brahms devoted one of the three major assignments to constructing and completing the Wikipedia article on Brahms' Liebeslieder Waltzer, complete with the oddities of Wikipedia citation practice and the need for imbedded navigational links.
Dr. Joe Bandy, his students Kelsey Kaline and Patrick Burton, and Gary Gerstle from the Nashville Civic Design Center (NCDC) will discuss the benefits and challenges of courses that engage students as producers of community service and empowerment through the case study of Sociology 221: Environmental Inequality and Justice. This course involved a service learning project with NCDC and focused students on the tasks of collecting oral histories and producing short films on environmental health issues in a cross-section of Nashville neighborhoods. These projects ultimately informed the NCDC's 2013 book Shaping Healthy Cities: Nashville.
All Vanderbilt graduate & professional students, and post-doctoral fellows, can register here for this free, daylong conference, offering workshops and discussions centered on teaching, learning, and professional development issues, across the disciplines.