CFT Now Accepting Applications for the SoTL Scholars Program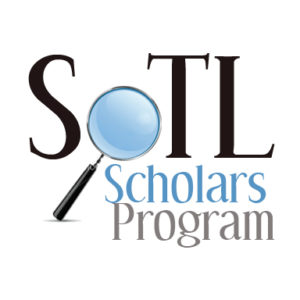 The Center for Teaching offers a variety of programs to meet the needs of instructors at every stage of their teaching career. From graduate students entering the teaching ranks to senior faculty fine-tuning their craft, all instructors will find participation in Center programs an avenue for exploration and discovery in a collegial setting.
The SoTL Scholars Program introduces participants to the principles and practices of the Scholarship of Teaching and Learning, an international, multidisciplinary field of disciplinary specialists studying student learning. SoTL is a synthesis of teaching, learning, and research in higher education that aims to bring a scholarly lens—the curiosity, the inquiry, the rigor, the disciplinary variety—to what happens in the classroom. SoTL asks expert disciplinary researchers to apply and extend those skills into the classroom. It begins with asking questions about student learning, followed by gathering and analyzing a variety of evidence of student learning to answer these questions. For more explanation of SoTL, see the CFT's SoTL Guide, which serves as the e-textbook for the Program.

The program has two sequential parts, each of which is highly collaborative:
a one-semester SoTL Seminar to explore the fundamentals of the scholarship of teaching and learning, including its major thinkers and texts, its key concepts and language, and its relationship to older forms of classroom research, and to ask meaningful questions about student learning and its relationship to teaching. (Fall semester: 8 sessions, 75 minutes each)
a one-semester SoTL Practicum to develop and carry out a SoTL project (documented in either the first eight pages of a publishable SoTL paper or a 20-minute presentation of the project, ready for submission to a SoTL conference) and gain the skills for presenting the project in scholarly public forums, including relevant conference presentations and publications. (Spring semester: 8 hours over the semester, scheduled with fellow Scholars and director)
Participants may sign up for the Seminar only, but only those who compete the Seminar and Practicum will receive a Certificate in the Scholarship of Teaching and Learning. Participants who complete the certificate will have the first eight-pages of a publishable SoTL article, a twenty-minute SoTL conference presentation, or a SoTL conference poster.
The SoTL Scholars Program is co-directed by Nancy Chick (CFT Assistant Director, who brings years of SoTL experience and expertise, including founding and editing a major SoTL journal) and a CFT Graduate Teaching Fellow who has completed the Program.
Application Deadline: Monday, August 25th
For more details on the program or to apply, visit the SoTL Scholars webpage.