The Open Classroom: Three Days of Teaching Visit Opportunities 2018 (Archived)

This event occurred September 24 – 26, 2018.
---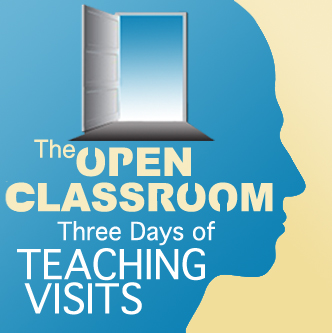 Would you like to watch one of your colleagues teach to see how they manage the classroom, engage students, or address challenging subjects? Do you ever feel like you toil in private to learn how to teach? You're not alone.
---
Too often in higher education we instructors do not have the opportunity to watch and discuss each other's teaching, and therefore we struggle in what Lee Shulman has called, "pedagogical solitude." The Center for Teaching has long worked to change this isolation by creating occasions for pedagogical community. For a third year, we are proud to offer three intensive days of teaching visits. On September 24 – 26, classes taught by some of the most well-respected and awarded teachers across Vanderbilt's many disciplines will open their classroom doors to faculty and graduate students.
Each day will highlight a focus area:
Engaging students in large classes
(Monday, September 24th)
Teaching writing
(Tuesday, September 25th)
Teaching inclusively
(Wednesday, September 26th)
Each of the three days will conclude with a reception and discussion at 4pm in the Jean and Alexander Heard Library Community Room.
Click on a tab for details about each class and to register.
Bruce Oppenheimer, Professor of Political Science
PSCI 1100: Introduction to American Politics
Includes coverage of parameters (Constitution, federalism, civil rights, civil liberties), linkages (public opinion, interest groups, media, political parties and elections), and institutions (Congress, the presidency, courts, and bureaucracy) in the American political context with comparative and historical perspectives.
Date: Monday, September 24th
Time: 10:10-11:00
Location: Furman Hall 114
---
Michael Bess, Chancellor's Professor of History
HIST 2720: World War II
This course examines origins and causes of the global conflict; the six years of military campaigns; politics and diplomacy of war-making; race as a factor shaping the war in Europe and Asia, the impact of technological innovations; social and economic aspects of the struggle, as well as its moral and psychological implications.
Date: Monday, September 24th
Time: 11:10-12:00
Location: Wilson Hall 103
---
Steven Buckles, Principal Senior Lecturer in Economics
ECON 1010: Introduction to Macroeconomics
This first course in the economics sequence examines the role of scarcity and prices in allocating resources, national income, fluctuations in unemployment and price level, monetary and fiscal policy.
Date: Monday, September 24th
Time: 2:10-3:00
Location: Wilson Hall 103
---
Catherine McTamaney, Associate Professor of the Practice, Department of Teaching and Learning
EDUC-1220: Society, the School, and the Teacher
This course introduces the relationship between society's goals and those of the school. The class studies the community setting and the school, the social, political, and instructional organization of a school, and the roles and values of a teacher.
Date: Tuesday, September 25th
Time: 2:35-3:50
Location: Sony Building 2001-A
(This class location is off campus, allow adequate time for arrival.)
NOTE: This discussion for engaging students in large classes will be MONDAY, September 24th, 4:00-5:00pm, in the Heard Central Library Community room.
Derek Bruff, Senior Lecturer in Mathematics
MATH 1111: Cryptography
In this first-year writing seminar, we explore the history and mathematics behind codes and ciphers. The seminar is an unusual blend of pure mathematics, puzzle solving, history, current events, and writing. The course features a unit on World War Two cryptography, a week on Edward Snowden and the NSA, a novel, a crypto hunt, a student-produced podcast, a math exam, and more. The writing portion of the course has two flavors: technical writing for a general audience and argumentative writing about privacy and security.
Date: Monday, September 24th
Time: 12:10-1:00
Location: Stevenson Center 1313
NOTE: This discussion for Teaching Writing will be TUESDAY, September 25th, 4:00-5:00pm, in the Heard Central Library Community room.
---
Gretchen Selcke, Assistant Director of Latino and Latina Studies
ENGL1111: Growing Up Latino
First-Year Writing Seminar that focuses on contemporary Latino and Latina literature by writers living in the United States. These writers depict the development of the mind and character in the often awkward and painful, but empowering, passage from innocence to experience, youth to maturity. Navigating adolescence is often complicated for young Latinos and Latinas dealing with by issues of race, culture, and language.
Date: Tuesday, September 25th
Time: 9:35-10:50
Location: Commons West House 107
(Please note location. Allow adequate time for arrival.)
---
Paul Kramer, Associate Professor of History
AMER 1700W/HIST1710W: Writing for Social Change
This course explores the practice of narrative, nonfiction writing for social change, the history of American investigative journalism and scholarship, and interviewing, research, narrative and revision skills.
Date: Tuesday, September 25th
Time: 11:00-12:15
Location: Calhoun Hall 117
---
Bryan Lowe, Assistant Professor of Religious Studies
RLST 1111: Buddhist Literature from Buddha to the Beats
This is a first-year writing seminar on Buddhist literature from India, China, Germany, and the United States. We explore how Buddhism changes in different cultural contexts and pay particular attention to forces related to modernity and colonialism.
Date: Tuesday, September 25th
Time: 1:10-2:25
Location: Garland Hall 301 F
---
Teresa Goddu, Associate Professor of English and American Studies
ENG 3730: Literature & the Environment
This course is an examination of 21st Century Climate Fiction. It focuses on environmental issues from British, American, and global perspectives, methodological approaches such as ecocriticism, environmental and social justice, ethics, and activism. And explores the role of literature and the imagination in responding to ecological problems and shaping environmental values.
Date: Tuesday, September 25th
Time: 2:35-3:50
Location: Buttrick Hall 302
Brooke Ackerly, Associate Professor of Political Science
PSCI-3271: Feminist Theory and Research
This class is an introduction to feminist works in the social sciences. It examines the development of feminist analysis, feminist theories, and approaches to social criticism, and explores methodological challenges to feminist research.
Date: Tuesday, September 25th
Time: 9:35-10:50
Location: Commons Center 335
NOTE: This discussion for Teaching Inclusively will be Wednesday, September 26th, 4:00-5:00pm, in the Heard Central Library Community room.
---
Carwil Bjork-James, Assistant Professor of Anthropology
ANTH 1101: Introduction to Cultural Anthropology
This course examines the study of human diversity through up-close description of life (ethnography) and systems of meaning (culture), the ways in which cultures have developed and changed. It is intended for students with a general interest in the field of anthropology.
Date: Wednesday, September 26th
Time: 8:45-10:00
Location: Buttrick Hall 101
---
Shaul Kelner, Associate Professor of Sociology & Jewish Studies
JS 2560: Social Movements in Modern Jewish Life
The course explores how social movements have shaped 20th & 21st century Jewish culture and politics, and movements internal to Judaism and those bringing religion into the public sphere.
Date: Wednesday, September 26th
Time: 10:10-11:00
Location: Buttrick Hall 310
---
Ellen Armour, Carpenter Associate Professor of Feminist Theology
DIV 6801: Introduction to Christian Theology
In this introduction to the discipline of theology, students will gain practice in thinking, discussing, and writing critically and constructively about the central themes, questions, and issues in the Christian life of faith. Students will reflect on and with important historical and contemporary theological texts in light of past and present challenges to the Christian faith. Themes include the nature and tasks of theology, revelation, God, human being, Christology, pneumatology, and ecclesiology.
Date: Wednesday, September 26th
Time: 11:10-12:00
Location: Divinity School 122
---
Lily Claiborne, Senior Lecturer
EES 1510: The Dynamic Earth: Introduction to Geological Sciences
An introduction to physical geology, this course examines the processes that have changed the earth. Relation between these processes and their products (e.g., earthquakes, minerals and rocks, mountains, oceanic features); interactions between processes affecting the solid, liquid, and gaseous components of earth; impact on humans.
Date: Wednesday, Septrmbrt 26th
Time: 12:10-1:00
Location: Stevenson Center 4327
---
Past teaching visits
2017 Fall Open Classroom Teaching Visits See the full descriptions
2016 Fall Open Classroom Teaching Visits See the full descriptions
2016 Spring Teaching Visits
2015 Spring Teaching Visits
2014 Fall Teaching Visits
2013 Fall Teaching Visits
2012 Fall Teaching Visits