Celebration of Learning Provides Snapshot of Immersive Student Learning at Vanderbilt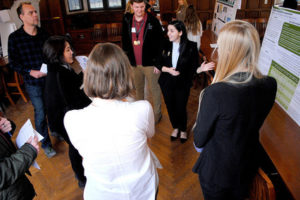 The CFT hosted a Celebration of Learning Jan. 29 that featured 34 student projects, posters and presentations from across campus. Students from six colleges and schools exhibited digital timelines, service learning projects, computer games, manufacturing equipment, podcasts, lab research and other products of their work.
"The goal of the event was to provide a picture of immersive student learning at Vanderbilt and to inspire instructors to engage their students not only as consumers of information, but producers of knowledge," Derek Bruff, CFT director, said.
More than 100 faculty, staff and students attended the event in Alumni Hall, which featured three rooms of student work: an exhibition hall with posters and projects, a digital media hall featuring podcasts and more, and a presentation hall with screenings and talks.
"It was a pleasure to see such a wide variety of student projects, both in medium and discipline," said Cynthia Cyrus, vice provost for learning and residential affairs. "I'm grateful for the students who shared their work, and for the faculty and staff members who mentored and supported them."
A student-faculty panel explored the teaching and learning dynamics in courses that lead to projects like the ones shown in the exhibition, and the event concluded with prizes in three categories as voted on by event attendees.
For more on the event, including examples of student projects, see this myVU article.