The CFT acknowledges these junior faculty who participated in the JFTF program this year!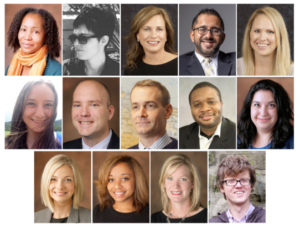 L to R: Audrey Bowden (Biomedical Engineering), Daniela D'Eugenio (French & Italian), Misty Evans (Nursing), Gautam Hans (Law), Brittany Haskell (Nursing), Allison Leich Hilbun (Biological Sciences), Clinton Leonard (Nursing),
Elliott McCarter (Asian Studies), Justus Ndukaife (Electrical Engineering & Computer Science),
Ipek Oguz (Electrical Engineering & Computer Science), Jennifer Ridgway (Nursing),
LeTizia Smith (Nursing), Kim Steanson (Nursing), Denis Zhernokleyev (German, Russian and East European Studies)
We want to thank 2019-2020 Junior Faculty Teaching Fellows for a great year thinking about teaching together, especially as we faced new teaching challenges at the end of the academic year. The Junior Faculty Teaching Fellowship provides its recipients with a structured faculty development experience that includes consultations, a course design seminar, peer observations, and dinners with senior faculty. This program intends to help Fellows develop an understanding of best teaching practices across the disciplines and to build a collaborative culture of teaching at Vanderbilt. The Center for Teaching thanks the School of Nursing for additional funding for this year's Fellows.