Junior Faculty Spotlight: Sayil Camacho
Each year, the CFT blog highlights the work of our Junior Faculty Teaching Fellows. This month, Sayil Camacho, Peabody College, talks about some of the lessons she has gained from the Fellowship.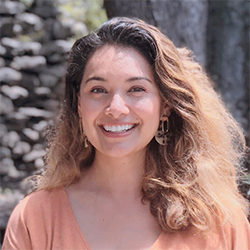 Latinas make up less than 1 percent of all full professors in the professoriate. As a Latina, former undocumented person, and non-native English speaker, I navigate racial segregation within the professoriate in isolation and without access to peers who understand my emancipatory worldview.  The opportunity to be a part of the JFTF program translates to being in community with faculty who fundamentally understand that academic excellence necessitates diversity, and are committed to helping me realize equity, diversity, including, and belonging in theory and praxis.  I cannot overstate how simply belonging to a community of committed faculty has been transformative to my professional development; there is allotted time to learn best practices, critically reflect in my classroom engagement, and access a community soundboard to listen, affirm, and brainstorm how to advance learning objectives.   
Recently, JFTF Fellow, Dr. Julia Steed, invited me to conduct a workshop titled, Interrogating the Status-Quo and Elevating Marginalized Experiences for the Vanderbilt School of Nursing.  The overarching objective was to implement a shift in consciousness that would permit a conversational power analysis. In other words, a power analysis to understand how we approach engaging with one another.  Because I have been able to workshop critical reflexivity as an instructor with my wonderful JFTF cohort, I was able to construct bridges that would enable participants to understand key concepts that may be abstract to their lived experience (i.e., white logic, structural humility, and racial battle fatigue).  Within the allotted time, a shift in consciousness began to materialize and I felt grateful to Drs. Steed, Johnson, Pinto, and Brame – their inclusive leadership has permitted my full participation.   
As I prepare for my tenure-track job talk, which includes a teaching demonstration, I feel a renewed sense of agency and purpose.  I am not sure when historically excluded populations will not face systemic inequality in the professoriate; however, I am certain that our success will be dependent on our collective commitment to teaching excellence.  The JFTF program has established a brave space for our community to grapple with the consequences of inequality.   
---
.
.
.
.
.