Celebration of Learning Project: Genetic Screen for Genes Involved in Paternal Mitochondrial DNA Elimination in C. elegans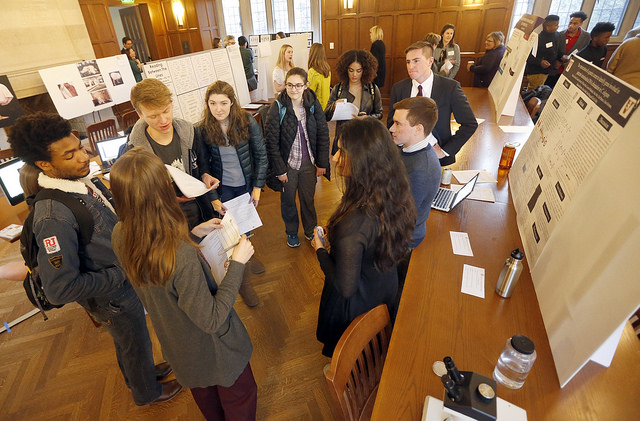 Students: William Hiser, Alec Jotte, and Sabeen Rehman
Project: Genetic Screen for Genes Involved in Paternal Mitochondrial DNA Elimination in C. elegans
Course: BSCI 1510L: Biological Sciences Laboratory
Faculty Sponsor: Steven Baskauf, Biological Sciences and Cait Kirby, Teaching Assistant and Project Supervisor
---
Vanderbilt students William Hiser, Alec Jotte, and Sabeen Rehman got hands-on experience with what it means to be scientists. All three students participated in a biological sciences lab course where, under the guidance of Dr. Steve Baskauf and graduate student Cait Kirby, they developed a genetic screen approach to track mitochondrial DNA degradation as the DNA passes from parent to offspring.
The team decided to use the model organism, C. elegans, a well-understood organism in the scientific literature, to validate their genetic screen. They wanted to better understand mitochondrial DNA, its degradation, and how it is transferred from parent to offspring since it has been shown that mitochondrial DNA degradation is important in various diseases related to major organs such as the heart.
William, Alec, and Sabeen's genetic screen incited random mutations in the genome of C. elegans, and they used these mutations as markers to determine if the mitochondrial DNA had been transmitted from the parent to the offspring. They mentioned that some factors of mitochondrial DNA degradation are understood; however, the group was investigating what other additional factors are at play.

After development of this genetic screen, they then optimized it for their project. They point out their approach was unique in that previously there was not an effective way to track mitochondrial DNA from parent to offspring. Therefore, by incorporating random mutations in C. elegans, they were better able to track the mitochondrial DNA as it is transmitted.
Aside from providing useful information regarding mitochondrial DNA degradation and transmission, William, Alec, and Sabeen point out that the project helped sharpen their research skills from learning how to interface with scientific literature, how to develop and carry out an experiment, how to work collaboratively with other scientists, and how to productively problem-solve through experimentation and data analysis.
---
---