Faculty Programs
The Center for Teaching offers a variety of programs to meet the needs of instructors at every stage of their teaching career. From graduate students entering the teaching ranks to senior faculty fine-tuning their craft, all instructors will find participation in Center programs an avenue for exploration and discovery in a collegial setting.
See this Prezi for a brief introduction to CFT offerings for faculty as of August 2015. Click on the forward button to step through the Prezi, and click on any links you see for more information.
Orientations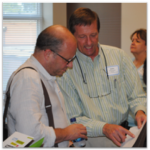 Teaching at Vanderbilt: An Orientation for New Faculty (TaV)
TAV affords faculty new to Vanderbilt the opportunity to get to know one another in an informal setting and to learn about the specificities of teaching at Vanderbilt and the resources available to help them succeed.
The online guide, Getting Started Teaching at Vanderbilt, sponsored by the Center for Teaching and the Office of the Provost, is designed to orient new faculty to Vanderbilt and to address common questions with a quick answer and a resource to consult or contact for further information.
Programs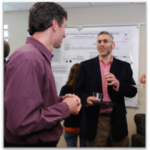 Junior Faculty Teaching Fellows
Junior faculty are invited to apply to participate in the Center for Teaching's Junior Faculty Teaching Fellows program. Fellows are provided with a structured set of professional development activities designed to help them refine their teaching skills and learn to teach more efficiently. Fellows benefit from engaging in a community of teachers that includes their peers as well as senior faculty mentors and CFT senior staff.  Program activities include: Course Design Working Groups, Individual Consultations, Teaching Visits, Dinner Discussions, and a May Workshop. Each fellows also receives $2000 in research funds to be used to enhance their teaching. Applications are accepted annually in the spring.
Over the last decade, many universities have sought to encourage innovations in sustainability education by providing educators intensive workshop opportunities to (re)design courses with significant environmental or sustainability components. It is toward this goal that Vanderbilt's Program in American Studies and the Vanderbilt Center for Teaching formed the Cumberland Project. Modeled on Emory University's Piedmont Project and Northern Arizona University's Ponderosa Project, the Cumberland Project is a two-day workshop intended as a launch for a continuing, vibrant teaching and learning community around sustainability themes in 2011-12 and beyond. Emphasis will be placed on a wide array of environmental studies across the natural sciences, social sciences, and humanities. You can learn more about the Cumberland Project and apply to be a part of the program online.
---
Workshops & Events
Throughout the school year, the Center organizes workshops facilitated by CFT senior staff. University administrators and faculty, graduate students, post-doctoral fellows are invited to attend.
Teaching Workshops feature practical, applied sessions on basic teaching practices in a variety of disciplines.
Conversations on Teaching are occasional, informal, and topical.  Sessions typically begin with a panel offering brief remarks, followed by open discussion with workshop participants.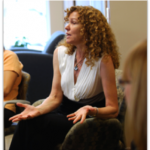 Teaching Visits
A Teaching Visit involves a small group of junior faculty who observe a senior colleague's class (on a selected day), followed by an hour of conversation about what was observed, particularly shared teaching challenges. The CFT offers visits across the university, in various disciplines, but visitors do not have to be in the same discipline as the course they are observing. Indeed, many faculty members have found it helpful to encounter teaching styles and strategies different than their own, which they can then discuss with colleagues after the observation and adapt to their own use. For the upcoming schedule of visits, please contact Joe Bandy, CFT Assistant Director.
Working Groups bring together small cohorts of faculty who meet regularly to discuss either a specific teaching practice or a more conceptual set of issues. The CFT currently hosts working groups and seminars on contemplative pedagogy, service learning, and teaching gender and sexuality.  CFT staff are also able to develop new working groups in response to faculty interest.
Consultation Services
The Center for Teaching provides a wide range of confidential consultation services to individuals for developmental purposes. Among the most popular types of consultations requested by faculty are those related to a small group analyses, using technology in the classroom, and designing a course or syllabus.
Small Group Analysis (SGA) – A CFT consultant meets with students in a class to collect their thoughts about the class, and then meets with the graduate student instructor or TA to discuss student responses.  SGAs can provide valuable insight into what students think is working well in the classroom and suggestions for improvement.
Technology Consultation – The CFT works with individual or groups of instructors to develop a plan for successful integration of technology into their teaching. This may include assistance with your course web site, electronic communication tools, course presentation technologies, and a range of other issues geared to the needs and expertise of the instructor.
Course & Syllabus Design –

Instructors can work with a CFT consultant at any stage of designing a course, from defining the topic for a course to putting the finishing touches on the syllabus. Consultants help instructors identify learning goals for their students, develop meaningful, well-timed assignments, and determine ways of assessing whether and how students have achieved those goals.
CFT consultants are also available to help make sense of and learn from course evaluations, perform a teaching observation, and provide feedback on teaching statements and teaching portfolios.
Grant Assistance
The CFT frequently assists grant writers through grant consultations and by providing letters of support. Many grant writers have used the following ongoing CFT programs and services in support of their grants: working groups, small group analysis and the Teaching Certificate Program. Generally the CFT's involvement in grants is limited to one of the types of support described here. There are, however, instances where the CFT might take a more active role, requiring the commitment of additional, ongoing CFT resources.
See the CFT's guide to grant funding resources for educational initiatives for possible sources of grant funding.
Online Resources
The CFT website provides guides to a variety of teaching topics with summaries of best practices, links to other online resources, and information about local Vanderbilt resources. Popular "teaching guides" include those on Interactions with Students, Technology & Teaching, and Assessment. In addition, the website features resources specifically for Junior Faculty as they improve teaching effectiveness and efficiency early in their faculty careers at Vanderbilt.
The Resources for Faculty website by the Office of the Provost also provides links to the information, offices and tools available to aid faculty in their endeavors, including resources for:
New Faculty
Benefits & Services
Policies & Procedures
Research & Funding
Teaching
Technology
The CFT's blog is also a popular way to follow happenings and resources as well as perspectives on teaching from around the university.