Teaching Gender and Sexuality
Teaching Gender and Sexuality:
A Seminar for Graduate Students
in the Humanities and Social Sciences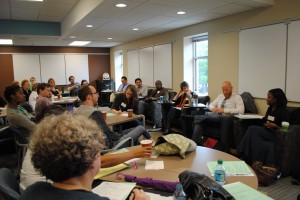 On May 16-20, 2011 the CFT partnered with José Medina, Associate Professor of Philosophy, to sponsor a seminar for humanities and social sciences graduate students on "Teaching Gender and Sexuality." This interdisciplinary initiative provided 12 participants (representing eight departments and three schools across the university) with theoretical and practical resources for engaging gender and sexuality issues effectively in the university classroom.
"There really is no other space at Vanderbilt where graduate students and faculty from so many different disciplines and programs can come together to think collectively and individually about the stakes, implications, and significance of teaching gender and sexuality. The Center for Teaching is not only providing that necessary space, but also a set of truly invaluable tools for enriching conversations at Vanderbilt and beyond about pedagogy, ethics, disciplinarity, and other imperative topics for any teacher. . . . In my view, the seminar provides a genuinely open and encouraging intellectual space for thinking critically about the promises and challenges of teaching gender and sexuality at the university level."
– 2011 TGS Participant
The seminar launched with a panel of five additional Vanderbilt faculty (Ellen Armour, Religious Studies and Theology; Richard Pitt, Sociology; David Rubin, Women's and Gender Studies; Michelle Shepherd, Spanish and Portuguese; and John Sloop, Communication Studies) joining Professor Medina to share their experiences and reflections on "What key influences have shaped how I teach gender and sexuality?" and "What ethical challenges and choices have I encountered in teaching gender and sexuality?"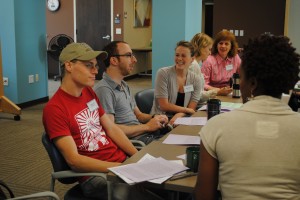 These faculty then partnered with graduate student alumni (who participated in a similar version of the seminar in 2009) to facilitate sessions on creating an inclusive classroom; understanding similarities and differences between feminist pedagogy, queer pedagogy and radical pedagogy; addressing the vulnerabilities of being a graduate student instructor or junior faculty member; and the ethical implications of teaching gender and sexuality in classroom.
The seminar also included presentations on Campus Resources for Teaching Gender & Sexuality, featuring staff from the Central Library and from the Margaret Cuninggim Women's Center and the K.C. Potter Center.
All week long, participants worked on individual projects (a teaching philosophy statement, a course or syllabus design, or key pedagogical strategies) and then presented them to the group at the end.
Participants at the 2011 TGS Seminar included:
Destiny Birdsong, English

Tristan Call, Anthropology

Courtney Campbell, History

Angela Cowser, GDR

Jennifer Dodd, History

Melinda Hall, Philosophy

John Maddox, Spanish & Portuguese

Luis Menendez, GDR

Megan Minarich, English

Neal Palmer, Community Research & Action

Sandy Skene, Philosophy

Manya Whitaker, Psychology and Human Development
Faclitators included:
Mary Aquila, Vanderbilt University Library

Ellen Armour, Religious Studies & Theology

Kat Baker, Center for Teaching

Melinda Brown, Vanderbilt University Library

Natalie Cisneros, Philosophy

Sarah Hansen, Philosophy

José Medina, Philosophy

Allison Pingree, Center for Teaching

Richard Pitt, Sociology

David Rubin, Women's and Gender Studies

Michelle Shepherd, Spanish & Portuguese

John Sloop, Communication Studies

Nora Spencer, Office of LGBTQI Life and Margaret Cuninggim Women's Center

Sarah Tyson, Philosophy

Jane Wanninger, English
Feedback from both participants and facilitators was uniformly positive and enthusiastic, emphasizing the pragmatic benefits of the individual projects as well as the impressive array of resources available at Vanderbilt to support faculty and students in teaching gender and sexuality.   In addition, participants underscored that the seminar deepened their understanding of and engagement with not only the topics but also with their students and their teaching colleagues:
"I have no doubt that the resources made available to me through this seminar (in terms of theoretical & practical information from authors, books, and websites – and most especially in terms of new contacts with colleagues, mentors, and guides) will help me become a better, more thoughtful, sensitive, and engaged teacher.  This seminar far exceeded my already high expectations – the facilitators did an amazing job, and I leave enriched in ways I could not have anticipated."

"This was a generative and deeply moving week for me.  Underneath the preparations and organizing for the week's learning was a profound move to care for our students by really teaching them – encouraging them – making a space for them to think; not just to deposit information, but to reach for, plan for, organize for transformed minds. . . . There are precious few workshops that I attend that encourage me to retain and integrate my learnings.  TGS will be one of two over the past 20 years that will cause me to keep the papers out on my desk and really incorporate learnings into teaching and practice…"