Working Groups

Working groups bring together small cohorts of faculty who meet regularly to discuss either a specific teaching practice or a more conceptual set of issues. Some working groups are less formal than others. CFT staff are also able to develop new working groups in response to faculty interest. We've often hosted working groups focused on course design or the scholarship of teaching and learning for faculty groups.
Below are a few current working groups hosted by the CFT.
---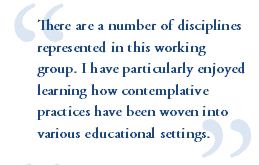 Contemplative Pedagogy Working Group
The ancient practice of contemplation is being explored by many institutions of higher education as a new means of enhancing liberal education.  Research demonstrates that "contemplative pedagogy"—the integration of meditative practices into higher education—facilitates the achievement of traditional educational goals such as improved cognitive and academic performance.  Studies also show that it fosters the development of the whole person, increasing capacities such as creativity, empathy, compassion, interpersonal skills and self-awareness.  Thus, contemplative pedagogy increasingly is considered a vital complement to critical reasoning, rebalancing liberal education to include head and heart, mind and body. Students have experienced it as an aid in focusing attention, improving concentration and accessing self-knowledge.  Teachers have found that it fosters their connection to students and rejuvenates their creative engagement with teaching and research.
For more information, contact CFT assistant director Nancy Chick.
---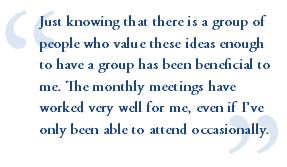 Service Learning Working Group
The CFT is proud to revive an earlier working group on service learning for all educators across campus. The Service Learning Working Group meets occasionally to discuss the challenges and opportunities of service learning and community engagement in higher education, often focused around faculty presentations of community-based teaching and research projects, the scholarship on service learning, or other related subjects.
For more information, contact CFT assistant director Joe Bandy or visit the Service Learning Working Group page.
---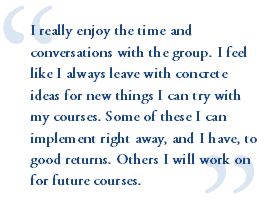 Course Blog Roundtables
An increasing number of Vanderbilt instructors are incorporating blogs into their course design, asking students to write posts for a shared course blog. By making student writing public (within the course if not on the open Web), students start to see their work as having an authentic audience. This often motivates them to produce higher quality work and to see themselves as a contributing member of a learning community. For examples of course blogs, see the "blog of blogs" we've set up which aggregates posts from a number of Vanderbilt course blogs.
For more information, contact CFT educational technologist Rhett McDaniel.
---
Teaching Statistics Roundtables
Statistics is a topic taught in many departments around campus. Our Teaching Statistics Roundtables provide instructors the opportunity to talk about challenges and opportunities that arise in teaching statistics across the disciplines, including student anxiety about math, student motivation (in what are often required courses), problem-based approaches to teaching, in-class statistics activities, and useful online resources.
For more information, contact CFT assistant director Cynthia Brame.