Episode 38: Stacey Roshan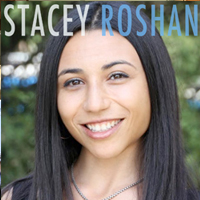 In this episode, we're going in a slightly different direction. Since we're here to explore the future of educational technology in higher education, we thought it would be interesting to talk with someone who is currently teaching our future students. Stacey Roshan teaches at the Bullis School, an independent K12 school outside of Washington, DC, where she is also the Upper School Technology Coordinator. She's well known for flipping her math classroom, introducing students to new material before class through online explanatory videos she creates, and spending class time helping students learn math by working problems on their own and in small groups. She uses a variety of technologies in her teaching, all in very intentional ways to help students learn math and learn how to learn.
The students we see in our college classrooms don't come in as blank slates. They have a variety of prior learning experiences. This conversation with Stacey Roshan will provide the Leading Lines audience with a little insight into the kinds of experiences and expectations our future students will have, particularly about the use of technology in learning.
Links
---
---