Conversations on Teaching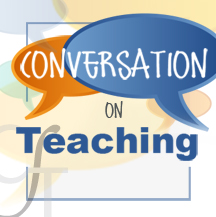 Conversations on Teaching focus on emergent teaching and learning issues in an informal, discussion-based format.  These sessions provide members of the Vanderbilt teaching community a chance to share their teaching experiences and learn from each other.
Video recordings of some past conversations can be found here.
---
Spotlight Event: Teaching with Wikipedia
Date: Tuesday, September 21st
Time: 3:00pm to 4:00pm
Location: Digital Commons, Room 200 (upstairs)
Spotlight Faculty: Brooke Ackerly, professor of political science, and Kristin Michelitch, assistant professor of political science
Sponsors: Digital Commons, Center for Teaching
---
Wikipedia is home to over 55 million articles. The website is a valuable source for information, but it also has systematic knowledge gaps, as well as biases toward historically privileged perspectives. Vanderbilt political scientists Brooke Ackerly and Kristin Michelitch have been working to correct these gaps and biases by engaging their students as Wikipedia contributors.
Students are, in fact, the ideal Wikipedians according to Ackerly and Michelitch, given their access to scholarly resources and support from faculty and librarians, as well as their "semi-expert" status. Thanks to resources from Wiki Education and support from Vanderbilt librarians, these faculty have integrated Wikipedia into their teaching and seen benefits not only to Wikipedia, but also to their own students' learning.
In this spotlight event, Ackerly and Michelitch will share their experiences teaching with Wikipedia. They will be joined by their Vanderbilt Libraries collaborators, Cliff Anderson and Mary Anne Caton. The course-based assignments and extra-curricular "edit-a-thons" they've used can be adapted by faculty in a variety of disciplines.
Open to Vanderbilt faculty, staff, students, and postdocs.
---
.
Archived video: Synchronous Sessions in Online Courses
In this Conversation on Teaching, four faculty members share their successes and challenges in facilitating synchronous sessions in online courses this fall.
Thomas Clements and Kathy Friedman, both from the Department of Biological Sciences, talk about their use of undergraduate Learning Assistants to facilitate interaction in a high-enrollment introductory course
Diana Heney from the Philosophy Department discusses lessons distilled from both introductory and upper-level philosophy courses, one taught with a TA and one without.
Jessica Watkins from the Department of Teaching & Learning describes approaches she found helpful for promoting small group work and effective preparation in an online course with both graduate students and upper-level undergraduates.
Facilitator: Cynthia Brame, CFT Associate Director
Below is a recording of the January 21st, 2021 discussion.
---
Archived video: Hybrid courses: Approaches to engage your virtual and F2F students
In this Conversation on Teaching, three faculty members share their successes and challenges in teaching hybrid courses this fall.
Jesse Blocher, Assistant Professor, Owen Graduate School of Management
Julie Johnson, Professor of the Practice, Department of Electrical Engineering and Computer Science
Marcy Singer-Gabella, Professor of the Practice, Department of Teaching & Learning
They describe approaches that helped them engage students synchronously, whether they were attending virtually or in person, as well as asynchronous course structures that helped keep everyone moving through the course together.
Facilitator: Cynthia Brame, CFT Associate Director

Below is a recording of the January 20th, 2021 discussion.
---
Archived video: Overcoming the 'busywork' Dilemma: Creating Meaningful Asynchronous Activities for Student Engagement
The busywork dilemma is where students perceive that assigned learning activities or assessments are not meaningfully contributing to their learning. This can be very frustrating to instructors as they often put a lot of effort and time into the design and implementation of these activities. This dilemma can be magnified in online and hybrid classes when students are held accountable for learning activities in new ways. While students' reasons for calling intentional learning activities busywork vary and some are embedded in misconceptions of learning there are some common pitfalls to avoid.
In this Conversation on Teaching, two faculty members share their approach for designing asynchronous assignments and how they engage with students meaningful. They also share their successes and challenges.
Panelists: 
Marshall Eakin, Professor of History
Abby Parish, Associate Professor in The School of Nursing
Facilitator: Julaine Fowlin, Assistant Director, CFT
---
Archived video: Teaching with Chat & Channel Apps
With the move to remote and online teaching in 2020, faculty and other instructors experimented with a wide variety of tools to foster and maintain social presence with their students. Some tried using group messaging apps like Slack, Discord, and Teams as a way to connect and communicate with students. These apps feature multimedia chat channels, making them useful places for sharing announcements, fielding questions, posting resources, and supporting group projects.
In this conversation on teaching, a few instructors share the ways they've been using these apps to support student learning and engagement. Participants were also invited to share their own ideas for teaching with these collaboration tools.
Panelists:
Will Grissom, associate professor of biomedical engineering
Lisa Fazio, assistant professor of psychology and human development
Spencer Bagley, association professor of mathematics, Westminster College
Facilitator: Derek Bruff, CFT director
Below is a recording of the January 11th, 2021 discussion.
---
Archived video: Teaching with Games and Simulations in a Pandemic
Games and simulations, both digital and analog, can immerse players in other worlds and give them experiences that help them see their own worlds in new ways. During this pandemic year, our world looks and feels very different. How can instructors use games and simulations to help students understand the world we find ourselves in? And how can we adapt games and simulations to teach in online and physically distanced environments to engage students in deep learning?
In this conversation, we continue explorations started at the 2019 Learning at Play symposium and hear from three instructors who are teaching with games and simulations during this challenging fall semester.
Panelists are Holly Tucker, Mellon Foundation chair in the humanities; Shaul Kelner, associate professor of sociology and Jewish studies; and Cait Kirby, Ph.D. candidate in biological sciences
Below is a recording of the November 19th, 2020 discussion.
---
Archived video: Testing Strategies in Hybrid and Online Classes
The move to hybrid and online teaching this year has prompted a shift in how we think about many aspects of our teaching. One area that can be particularly challenging is assessment, particularly in courses that rely on exams. In this Conversation on Teaching, four faculty will share the approaches they and their colleagues are using to test students in a fair and equitable way this fall, using these observations to kick off a larger conversation. Join us to share your experiences and to learn from other instructors about the successes, challenges, and opportunities of testing in our online and hybrid classes this fall.
Panelists are Amanda Lowery, Biomedical Engineering; John Rafter, Mathematics; Elisabeth Sandberg, Psychology; Tara Todd, Chemistry
Below is a recording of the October 15th Zoom conversation.
---
Archived video: How to teach coding in an online or hybrid environment
While there are core principles of teaching and learning that can help us think about teaching any course, there are also specific elements that differ from discipline to discipline and subject to subject. Teaching students to code has its own set of challenges, and some of those challenges are amplified in an online environment.
Computer Science faculty members Jerry Roth, Doug Schmidt, and Jules White have extensive experience teaching coding in an online environment. They will kick off an hour of discussion about how to teach coding online by sharing their observations about what works and what doesn't. The rest of the hour will be spent in an open discussion, with instructors sharing experiences, concerns, and potential solutions.
Below is a recording of the August 6th Zoom conversation.
.
.