University Course – Justice, Mercy and Mass Incarceration
Justice, Mercy and Mass Incarceration (UNIV 5150)
This course addresses the astronomical level of incarceration in the United States – greater than any other nation, including Russia or China, and more than five times the level in the U.K. or Australia.  The result has been to ruin the lives of millions of Americans and impose crushing costs of state budgets, while producing, according to most observers' estimates, only minimal effects on the crime rate.   The course will explore the causes and possible solutions to this situation.  We will discuss the theory of punishment, the current state of incarceration in the U.S., and a series of alternative explanations for our current policy.  The course will be taught in seminar format, with discussions based on readings, student presentations, media accounts of the prison system, guest speakers with personal experience of American prisons, and possible visits to local prison facilities.  It will be co-taught with Graham Reside, a professor in the Divinity School, and is open to graduate and professional students throughout the University.  Students will be required to participate in the discussions, write two short papers and present them to the group, and write a final paper exploring their own ideas about the subject.
Instructors
Graham Reside, Assistant Professor and Executive Director for the Cal Turner Program in Moral Leadership for the Professions. Reside works in the area of sociology of religion, social ethics and the sociology of morality. He also serves as the director of global education at the Divinity School.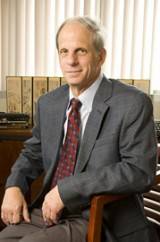 Ed Rubin, University Professor of Law and Political Science. Rubin specializes in administrative law, constitutional law and legal theory. He is the author of numerous books, articles and book chapters. Professor Rubin joined Vanderbilt Law School as Dean and the first John Wade–Kent Syverud Professor of Law in July 2005, serving a four-year term that ended in June 2009.
Course Overview
Key features:
This course will feature lectures and presentations from formerly incarcerated people as well as principle contributors to the national conversation about mass incarceration in the United States. Students will also have an opportunity to visit Riverbend prison and discuss the experience of life on the inside.

The course takes students through the history and development of penal practices in the United States, and examines the persistent thread of race in the motive behind the expansion of the prison system.

This course is specifically cross-professional, readying aspiring lawyers, religious leaders and social activists for collaborations across disciplines when considering those touched by the criminal justice system.
Degree requirements fulfilled:
Divinity School: Will count towards the Foundational Requirement in Ethics for the Master of Divinity and Master of Theological Studies degrees.
Graduate School: Will count towards the 30 credits required for the Master's degree and the 72 credits required for the Ph.D.
Law School: Elective credit toward the degree.
Peabody Professional: Credit toward the degree.
School of Nursing: Elective credit toward the degree.