Tips for Creating Quality Videos at Home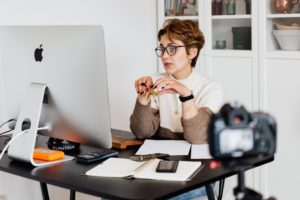 When creating educational videos from home, there is nothing wrong with using the technology you already have access to, such as your built-in webcam. However, if you are looking to create more professional-looking videos, consider some of these options below. We all know video gear can be expensive, so I purposefully included gear that will not completely break the bank. Some equipment you may already have access to, such as a smartphone or ear buds. There is also editing software out there that is completely free, or already on your computer.
This is great video on how to find cheap production gear.
For any questions about the list below, please reach out to CFT's Digital Media Specialist, Carly Byer, at carly.byer@vanderbilt.edu
Audio
Apple EarPods have a built-in microphone in the earbuds. You can use these as a microphone on a smartphone or a computer. (Smartphones, PC, Mac)
Note: These are EarPods with an audio cable, not a lightning cable. iPhones 7 and up do not have an audio jack, they only have a lightning cable. You can either purchase an adapter or EarPods with a lightning cable.
The mic should work on your phone once it's plugged in.
AirPods also have a microphone in the earbuds. They connect through Bluetooth. (Smartphones, PC, Mac)
Blue Snowball Mic can connect to your computer through a USB drive. This mic is recommended if you want something more advanced than earbud mics and you plan on primarily recording audio with your computer. (PC, Mac)
How to setup– your computer (PC or Mac) should automatically recognize the microphone. Then, you will have to choose the Snowball as your microphone on the program you are using to record.
Boya  A great inexpensive microphone you can use on any smartphone, DSLR, or computer. (Smartphone, PC, Mac)
Note: You will need an adapter if you have an iPhone 7 or higher
Check out this video where ThinkMedia discusses the Boya and other recommended microphones.
Lighting
You will need to mount these to a stand.
 A video on the ESDDI LED Camera Video Light
A video on VILTROX L116T CRI95
How to light a video with one light. (Watch "Rembrandt Lighting" 4:57-6:18)
You can also use outdoor light. The best times to film are shortly after sunrise and shortly after sunset.
Cameras
Even "cheaper" cameras are pretty costly.  If you have a smartphone, you probably already have a pretty decent camera. Obviously, the newer the phone, the more advanced the camera.
If you are looking to purchase a new smartphone, consider the iPhone 11 or Galaxy S20.
Here are the video settings you should change on your iPhone.
When using a smartphone, it's best to record horizontally.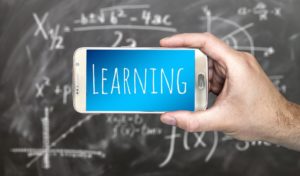 I also recommend using a tripod or stand for your smartphone. If you don't want to purchase one, you should lean your phone against something that will keep it sturdy. If you're crafty, you can make a DIY stand like this one or these 10 DIY stands.
Here are stands you can purchase:
Editing Software
iMovie: If you have a Mac, iMovie is already on your computer.
Photos:  You can edit videos with the Photos App on your Windows 10.
OpenShot Video Editor– Can download on both a Mac and PC for free.
Backdrops and Green Screens
You can also just buy green fabric at a fabric store.
How to edit a background onto the green screen:
Backdrops
Zoom Tips
Watch 5 TIPS for BETTER LOOKING Video Calls | Zoom Meetings, Skype!
Sit facing a window with natural light shining on you. If natural light is unavailable, use a light source that is close to the camera. A light source that is directly above you may produce a harsher look.
Don't have a light source/window coming from behind you. If you can't avoid being placed in front of a window, consider closing the blinds.
Remove any distracting elements that may be cluttering the camera shot or simply use a virtual background.
Keep the camera at eye level to avoid the camera "looking up at you." If you have a laptop, it may be helpful to elevate it with a few books.
Place yourself in the center of the shot.
Mute yourself when you do not plan on speaking for a period of time. Tell your students to stay muted unless they are speaking to avoid unnecessary background noise and feedback.
Note: These tips will enhance your video quality and are recommended, if possible. However, these can be tricky if you're limited to one space for your Zoom calls. Don't fret if you can't follow all of these perfectly. Remember, the most important part of a Zoom call is audio and most built-in microphones will suffice. If you are having trouble with audio on Zoom, please reach out to VUIT.
See VUIT's Zoom Best Practices for more tips and to download Vanderbilt virtual backgrounds.
---
For any questions about this list, please reach out to CFT's Digital Media Specialist, Carly Byer, at  carly.byer@vanderbilt.edu