New Resource on Teaching Outside the Classroom Now Available!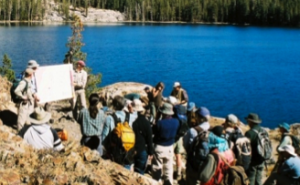 The CFT has created a new teaching guide: Teaching Outside the Classroom.
Teaching and learning can become inherently spontaneous and student-centered when moved from the confines of the classroom into the world at large. This Web resource provides helpful tips and techniques to consider when preparing these learning experiences, along with the recourses you need to successfully incorporate field components into your course.
The guide outlines a variety of ways you can make learning extend outside the classroom including:
Field Trips
Service Learning and Community Engagement
Study Abroad
Technology Outside the Classroom
Peripatetic Pedagogy
Place-Based Learning
Assessment of Field Experiences
Resources for research on Experiential Learning
To learn more, listen to the latest CFT podcast featuring remarks by Steve Baskauf, senior lecturer in the Department of Biological Sciences, on the topic of teaching outside the classroom.
Baskauf, along with Professor of Earth and Environmental Sciences David Furbish, have recently been highlighted in CFT blog posts about the topic.