Apply Now to join the Teaching Certificate Program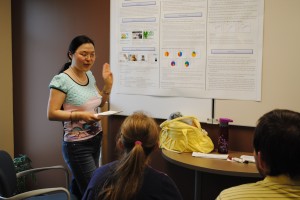 Why Participate in the Teaching Certificate Program?
By developing and refining your teaching skills, you'll improve the end-product of your teaching: the learning of your current and future students.  You'll do this by better understanding student learning and what kinds of teaching lead to it.
By approaching your teaching as a cycle of inquiry, experimentation, and reflection, you'll develop skills that will enable you to analyze and improve your own teaching now and in the future.
Research indicates that new faculty often find teaching the most challenging and time-consuming part of their jobs.  By developing your teaching skills now, you'll be more likely to be a "quick starter" in your first faculty position.
You'll realize ways in which you can approach your teaching as a scholarly activity, helping you understand yourself as a scholar in all areas of your academic life, not just your research pursuits.
You'll develop a teaching portfolio you can share with potential employers when you're on the job market.  More importantly, you'll gain experience in thinking deeply and intentionally about your thinking and you'll be equipped to talk more effectively about your teaching when you're on the job market.
By participating in workshops and working groups, meeting with CFT consultants, and presenting some of your work in the Teaching Certificate program in a public forum, you'll engage with your own teaching among a community of scholars.  This sense of community, frequently a component of research endeavors, is often lacking in one's teaching.
Applications for Cycle One are being accepted until September 9, 2011.
Once you have applied, we ask that you make plans to attend one of our Fall Orientation Sessions. These are scheduled for: Tuesday, August 30 4:00pm or Friday, September 16 11:00am.