Why Work for us as a Graduate Student: Learning & Professional Development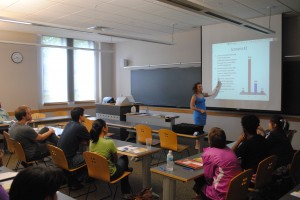 Each spring the Center for Teaching (CFT) recruits graduate students and post-docs to work at the Center for the following school year. These positions are great opportunities for graduate students to refine their teaching and presentation skills, network with graduate students outside of their department or program, and develop expertise in training and supporting new TAs.  Every year, our Teaching Affiliates and GTFs tell us how much they enjoyed and benefitted from their experience working at the CFT.
One reason that is often cited is the level of professional development, support and mentoring that is provided by the CFT to it's graduate student staff members.
"

The skills and approaches you learn will make you a more advanced instructor than those with many more years of experience

, with a capacity to interest and activate students that others only gain through long trial and error. What I learned there I still apply in the classroom every day and some of the services I supplied as an MTF (like the small group analysis) are things I'm interested in implementing at my current university as the new chair of the Quality of Teaching Committee."

(Mark Barr, Assistant Professor of English, Saint Mary's University, MTF 2002-03)

"Working for the CFT was one of the best experiences I had while in graduate school. When I first started teaching, I was okay, but going through this program gave me new strategies, new resources, and above all, new skills that have served me well outside of teaching too." (Christie St-John, Senior Assoc. Director of Admissions, Tuck School of Business at Dartmouth College, MTF, 1994-1995)
"The training, support, and mentoring that I received at the CFT has become an important pillar of my current position. This well-rounded formation not only contributed to my success as a graduate student at VU, but it was the foundation of my career as a junior assistant professor and now as an associate professor. As a logical consequence of being trained, supported, and mentored by an outstanding group of individuals who taught me in a pragmatic way the value of cooperation, interdisciplinary collaboration, and scholarship as part of the teaching and service, I am much better equipped in my current position to proffer training, support and mentorship to my students and colleagues." (Martha Garcia, Associate Professor, University of Central Florida, MTF 2002-03)
The CFT has two types of positions available for graduate students:
Graduate Teaching Fellows (GTFs) are employed for the entire academic year, engage in a variety of CFT activities around training and supporting teaching assistants across the university, and are paid $20,000 for the year.
Teaching Affiliates prepare and lead sessions at our annual Teaching Assistant Orientation in August, working about 80 hours total (mostly in August), and are paid $1000.
Complete information about these positions and the application process can be found here. Applications are dueFriday, March 2nd.
(Note: In December 2011, the CFT invited former graduate student employees share their reflections on their positions with the CFT. Above are some of their unedited comments made about working at the CFT as a Master Teaching Fellow, a Graduate Teaching Fellow or a Teaching Affiliate.)