Student Learning on Display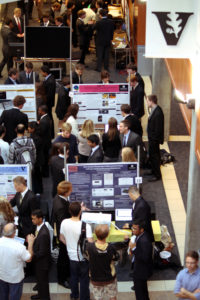 by CFT Director Derek Bruff
Yesterday I attended the School of Engineering Senior Design Day and spoke with many of the students (including a few of my own) about their senior design projects. I was impressed by what these students have accomplished this year and with the perseverance they developed tackling unsolved, open-ended, and challenging design problems. I brought my camera and audiorecorder with me–look for a report here on the blog soon.
In the meantime, I would encourage you to see what other students around campus have been up to this semester and this year. Following is a list of three student poster sessions happening next week that are open to the Vanderbilt community. If you know of other such poster sessions, please let me know or leave a comment. Thanks!
Monday night, April 23rd, students in Erika Grundstrom's Introduction to Astronomy lab course will share their end-of-semester projects in a poster session held in Stevenson Center 2200 from 8:30 to 9:30 p.m.
Tuesday, April 24th, is Psychology Day. Graduating psychology honors students will share their thesis projects in a poster session from 2 to 4pm in the lobby of Wilson Hall.
The Biological Sciences 111c lab course, taught by Steve Baskauf, is holding its end-of-semester poster session in the lobby of MRB III on Thursday, May 3rd, from noon to 1pm.  The students in this course design and implement original experiments instead of working through the usual guided lab assignments. See this report on Steve's course from last year on the Vanderbilt research blog.
Image: "Going Public," by me, Flickr (CC)