Apply to be a Junior Faculty Teaching Fellow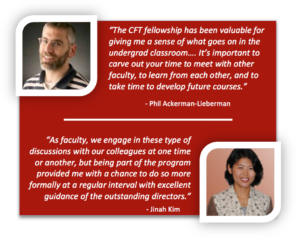 The CFT's Junior Faculty Teaching Fellowship program provides a special set of opportunities for junior tenure-track faculty to…
Learn from senior colleagues about successful teaching practices and how to better balance the many demands of work and life.
Learn to integrate more fully your teaching and research.
Design and refine courses.
Add to your repertoire of teaching skills.
Develop abilities to analyze and improve your teaching over time.
Enjoy a teaching community of peers and mentors at Vanderbilt.
Develop and improve materials for review and tenure processes.
These opportunities will take place in a structured set of activities that include teaching visits, dinners, working groups, course design projects, one-on-one consultations, and an end-of-the-year workshop.
Junior Faculty Teaching Fellows will also receive $500 in research funds.
For more on the program or to apply, visit the CFT website, or the article, "Teaching Well," in the Vanderbilt View.