CFT continues the Contemplative Pedagogy Working Group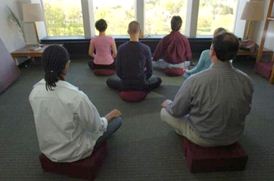 The CFT would like to thank Julie Sandine (Law School) and Linda Manning (Center for Integrative Health) for guiding the Contemplative Pedagogy Working Group since last summer. They have asked the CFT to guide the group beginning this summer with Nancy Chick assuming the role as coordinator for the group.
Nancy is eager to hear from those of you who've been involved with the group in the past. She'll be contacting group members individually to request a brief conversation in the next couple of months, but feel free to email her in the meantime if you have ideas or suggestions. Look for an email and more information from Nancy soon, gauging interest in a leisurely summer reading group as a way to (re)connect with each other and with various contemplative practices and possibilities.
If you're interested in learning more about contemplative pedagogy or would like to be added to the contemplative pedagogy mailing list, contact her at nancy.chick@vanderbilt.edu. You can also view the Center for Teaching's materials on contemplative pedagogy if you'd like to know more on the topic.