Meet CFT Graduate Assistant Katie McEwen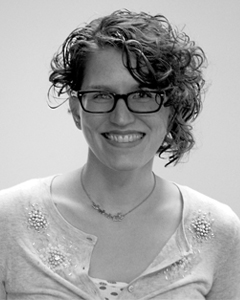 As the CFT explores digital learning through the Coursera initiative, we're glad to have help from Katie McEwen, who is working as a graduate assistant at the CFT this year.
Katie is a doctoral student in the Department of Germanic and Slavic Languages. She specializes in 18th- to 20th-century German literature, with an emphasis on questions of gender, writing, and representation, including design history and visual culture.  Right now, she is finishing a dissertation on the female hand. Katie has taught a variety of courses in German, from novice to advanced, and has served as a TA for "German Fairy Tales."  She completed the CFT's Teaching Certificate program last spring.
At the CFT, Katie's work on online education draws on her research skills and her experience in the classroom, where she has integrated new technologies — for example, wikis — to facilitate cultural and linguistic literacy. Katie contributed to our new teaching guide on massive open online courses (MOOCs), and she will be blogging about MOOCs here on the CFT website throughout the year.