gradLEAF pools resources from throughout the VU community

gradLEAF is designed to be a one-stop shop for graduate student professional development needs. Drawn from offerings by schools and departments across the Vanderbilt community to provide students a matrix of offerings, the topics and resources have been vetted by a PhD student advisory council and a council of faculty/staff across the university.
A professional development focus needs to start as students enter their Ph.D. programs so that they are active planners of their graduate careers and life-long learning plans. The gradLEAF grid is divided into three time periods: early (for graduate students just starting their PhD programs), mid (for graduate students in mid-years as they are finishing coursework and qualifying for candidacy), and late (for graduate students who are working on their dissertations). Some categories are categorized as "throughout" because these were identified as skills that should be honed throughout the entire PhD process.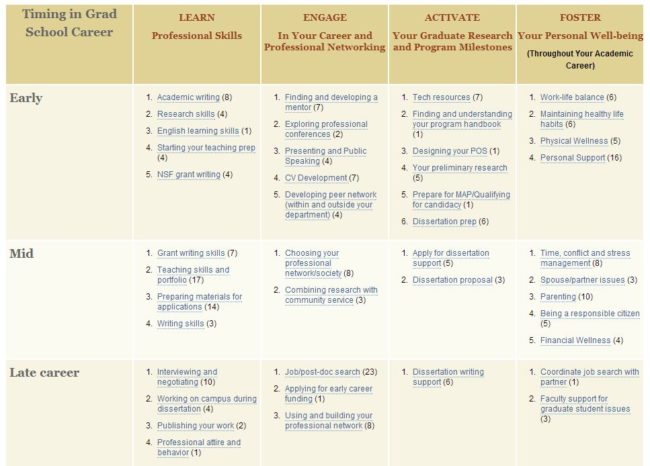 The gradLEAF grid is divided into four categories:
1. LEARN professional skills includes honing research skills, learning the "tools of the trade" for future job settings (such as teaching and training, grant writing, professional writing) among others.
2. ENGAGE in career and professional networking includes thinking about and preparing for the job search. Supports could focus on building a CV and personalizing for different job opportunities, finding, attending, and presenting at relevant professional conferences, and taking opportunities to engage in professional service with an emphasis on building a professional network.
3. ACTIVATE your graduate research and program milestones are the focus of the PhD programs themselves, with research skills and development of a program of research addressed through formal coursework, mentoring, and hands-on work in research teams/labs. Centralized supports could include project management, finding resources to fund student research, supporting the writing of a dissertation, etc.
4. FOSTER personal well-being requires a continued focus on staying healthy throughout the graduate school career and enhancing or developing wellness activities in the six dimensions: physical, social, intellectual, spiritual, emotional, and occupational. Included in this domain, for instance, would be: time, stress, and conflict management; balancing acts (e.g., finishing degree while finding job; balancing home and graduate study).
gradLEAF is part of the Enhancing Graduate Education project, funded by the Vanderbilt University Graduate School, which pools together professional development resources for graduate students at Vanderbilt University. The Enhancing Graduate Education Project is funded by a grant from the Graduate School and is administered through the POPGE office under the supervision of Dr. Craig Anne Heflinger, Associate Dean for Graduate Education at Peabody College. Questions or comments can be sent to: c.heflinger@vanderbilt.edu or popge@vanderbilt.edu