Video Asks "TAs: What Does Peabody Want?"
by Nancy Chick, CFT Assistant Director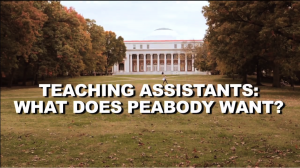 Teaching Assistants live in a liminal space between student and professor, balancing their own studies with the responsibilities of assigning grades, delivering lectures, facilitating review sessions, running labs, and in some departments designing entire courses.  They must negotiate the varying expectations of multiple audiences, including their thesis or dissertation advisors, their faculty-supervisors, and their students.  Their work is complex and complicated—and integral to the functioning of the university.
A few years ago, Vanderbilt's Chemistry and Biological Sciences Departments created a video to address some of these complexities.  Entitled "What Vandy Students Want," it includes interviews of students talking about their expectations for TAs.
This video, while in some ways specific to these two departments, is useful in helping all new TAs think about their roles. Preparation, patience, and respect are universal requests of teachers, but hearing the students explain why is more compelling than the simple command to be prepared, patient, and respectful.
This year, two of the Center for Teaching's Teaching Affiliates, Maggie Konich (Higher Education Administration) and Andrew Greer (Human and Organizational Development), created a similar video for Peabody, "Teaching Assistants: What Does Peabody Want?"
They divide the video by questions:
"What have your experiences with TAs been like?"
"What expectations do you have of TAs?"
"What challenges have you had with TAs?"
"How do you communicate with TAs?"
"What have your TAs taught you?"
This video includes interviews with undergraduate students and faculty members, effectively capturing a broader range of perspectives, as well as some of the complexities inherent in a TA's identity. For instance, on one hand, a professor describes expectations for professionalism, "acting like any other university faculty member," and moments later, a student talks about the blurry line between the TA being a teacher and a friend.
What would this video look like for your department or school?  What are the specific responsibilities, expectations, and complexities of TAs in your neck of the woods?