Lessons from the Cumberland Project: Teaching Sustainability across the Curriculum
by Andrew Greer, 2013 Teaching Certificate Recipient and 2012-13 SoTL Scholar
During the Celebration of Teaching on May 3, Jennifer Fay (Film Studies and English), James Fraser (HOD), and Larisa Grawe DeSantis (Earth and Environmental Sciences) discussed intriguing strategies to incorporate the essential topic of sustainability into the classroom in the contexts of cinematography, urban policy, and earth sciences. Joe Bandy, Assistant Director of the CFT, chaired the session titled "Teaching about Social and Environmental Problems: Lessons from the Cumberland Project" and opened with an introduction to the Cumberland Project, a discussion-based workshop for sustainability educators at Vanderbilt. (For more information, visit this web page.)  The panel was one of many innovative sessions that publicized unique and effective teaching strategies at Vanderbilt.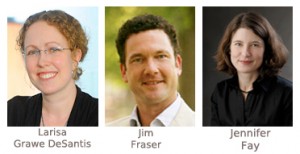 The first panelist, Jennifer Fay, examined sustainability through the lens of cinematography. She showed movie clips to illuminate the multiple contradictions of the perfectly controlled environments of the cinema with the harsh environments of the real world. Fay illustrated this point with a fascinating discussion about the movie Singing in the Rain. During a drought in Los Angeles, this film wasted thousands of gallons of drinkable water to provide the illusion of a man who was so exuberant that he could sing in a hostile downpour. Additionally, Fay suggested that filmmakers could limit unsustainable practices by filming in local settings as opposed to traveling great distances and wasting fossil fuels. For example, the film Inconvenient Truth, which was intended to raise awareness about global warming, had a massive carbon footprint. Finally, Fay used additional films to relate sustainability to social class. Other panelists reiterated this relationship.
Next, James Fraser discussed sustainability in the context of urban policy and community development. He said that he intentionally discussed everyday but actionable sustainability problems in his classes to avoid overwhelming the students with massive environmental disasters like oil spills. For example, he asked students about their experiences mowing lawns and related the discussion to ecological problems from unnecessary fossil fuel use and fertilizer runoff. Like Fay, Fraser linked sustainability to social class. To make sustainability issues tangible, he described taking students to Chestnut Hill, one of the poorest areas of Nashville. Through conversations with residents, Fraser and his students discovered that issues of sustainability were central to the lives of Chestnut Hill community members. Residents reported excessive heating and cooling bills for their often old and poorly insulated homes. Fraser teamed up with the mayor's office to provide energy audits and repairs to residents' homes. Although he and his students successfully addressed sustainability issues in a practical way, Fraser argued that such efforts were "Band-Aids" for the larger social and political problems that led to unsustainable communities. To address the larger forces that led to inequalities, he brought in social and political literature to the classroom.
Finally, Larisa Grawe DeSantis shared her experiences of not only teaching sustainability as it relates to the environment, but also of sustainable education in the classroom. Her work helped students form research questions, carry out analyses, and publish results in peer-reviewed journals. Grawe DeSantis and her students analyzed evidence from past climate fluctuations to better understand possible outcomes of climate change today. She discussed best practices in the classroom after four semesters of climate change investigations with her students. After varying the amount of faculty and student involvement in forming research questions and carrying out analyses, Grawe DeSantis recommended strong involvement from faculty as facilitators, active student contributions in forming the research questions, and solid buy-in from the department to share results with a wide audience.
The panel provided useful advice about incorporating sustainability into the classroom. Presenters convinced us that their strategies led to strong student engagement with the complex concept of sustainability. Further, the panelists encouraged discourse with larger audiences and critically examined who benefited from sustainability efforts. Overall, the session was successful in providing audience members with theoretically sound and practical strategies to incorporate sustainability into the classroom.
For more information about the Cumberland Project, visit this page.