Celebration of Learning, 3pm Today in Alumni Hall #VandyCoL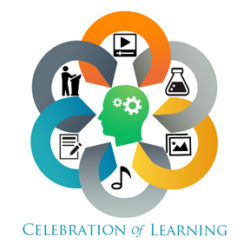 Today's the day! The Celebration of Learning, 3-6pm in Alumni Hall, is the final event in the Center for Teaching's "Students as Producers" theme year.
The event will feature students and the products of their learning experiences in courses at Vanderbilt this year.  Imagine an exhibition of posters, presentations, and performances by students from all over campus, sharing what they have discovered, created, designed, authored, and solved.  The event will provide the Vanderbilt community with a picture of deep, engaged student learning across the colleges and schools.
There will also be a keynote presentation on the theme of "Students as Producers" by Randy Bass, Vice Provost for Education and Professor of English at Georgetown University. Randy is known for his efforts in his own classes and with other faculty to make student learning visible, having worked at the intersections of new media technologies and the scholarship of teaching and learning for twenty years.  He's also an incredibly engaging speaker.
Students in two of the CFT's graduate student programs will share the projects they completed for those programs.  The Blended and Online Learning Design (BOLD) Fellows will present the online learning modules they designed and assessed this year, and our SoTL Scholars will share their work in the scholarship of teaching and learning (SoTL).  These students, along with graduates of our Certificate in College Teaching, will be recognized at the event for their accomplishments.
A reception will follow, during which we will honor the students participating in the event, their instructors, as well as students and faculty who have completed CFT programs this year.
We hope that you'll attend the Celebration of Learning and be inspired by the impressive student work on display, as well as by the keynote from Randy Bass. See you at 3pm today!
Be sure to use the hashtag #VandyCoL if you tweet about the event!