Vanderbilt ShareFest: Strategies for Communicating Complex Ideas
by Derek Bruff, CFT Director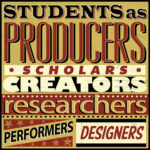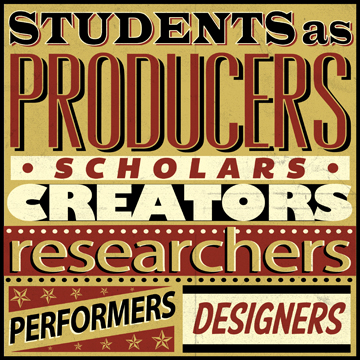 Below is a recap of last week's Vanderbilt ShareFest. For more ideas on engaging students as producers of knowledge, come to the CFT's Celebration of Learning next Monday. The event will feature a highly engaging keynote by Georgetown University's Randy Bass, as well as an exhibition of more than 25 student projects from all over campus. More info and RSVP here!
Last week I had the pleasure of giving a short presentation at Vanderbilt ShareFest, a showcase of emerging communication strategies by Vanderbilt faculty, staff, and students.  The event was the capstone event in a series of activities this year at the Center for Student Professional Development aimed at developing Vanderbilt students' ability to communicate ideas and tell their own stories. This series dovetails nicely with the CFT's "Students as Producers" theme year, since students who engage in the production of knowledge often do so with the goal of sharing their work with others. Thus, students benefit from having stronger communication skills.
Here's the CSPD's Heather Lefkowitz on her center's work on this topic:
Our goal at the Center for Student Professional Development is to work with students across the entirety of their Vanderbilt experience to develop their professional capabilities, define their identities, and build resilience as they prepare for employment in a rapidly changing world.

In my work as a coach to undergraduate students at the Center, I spend a huge amount of time working on effective communication skills.  Some students have difficulty connecting with others in a presentation.  Some feel anxious talking about themselves during interviews.   Others have difficulty "pitching" their own ideas, or talking about themselves in formal or informal networking settings.

Everyone can learn to communicate complex ideas more effectively, and this principle is gaining traction nationally.   At Vanderbilt, our Communication Studies department at Vanderbilt offers great courses on public speaking and persuasion, but these courses are not requirements for undergraduates.

So this spring we developed a three part series for seniors called Communicating Complex Ideas.  In the first session, we used exercises used in improv theater to help students connect with others and be more relatable.  In our second session, students worked with an organizational storyteller to help craft narratives and stories they can use in different settings.  And in our final session, students developed a variety of pitches they can use in different settings.
In planning these activities, Heather and her colleagues discovered people all over campus using innovative communication strategies. This led to them to create last week's ShareFest. The event was sponsored by the CSPD, the Curb Center, and the CFT. Speakers included communications professor Paul Stob (also an alumnus of the CFT's Junior Faculty Teaching Fellows program), German doctoral student Vivian Finch (also a Teaching Affiliate at the CFT), A&S senior associate dean Vicki Green, Emily Pearce from VU Public Affairs, postdoc Barbara Natalizio, and the winners of this year's 3-Minute Thesis competition at Vanderbilt.
As I listened to the ShareFest presenters, a couple of themes emerged for me. One was the importance of being concise when communicating complex ideas. The doctoral students who won the 3-Minute Thesis competition had to describe their research in a compelling way to an audience of non-specialists in no more than 180 seconds. Vivian Finch asked her German students to collaboratively write a short story (in German!) on Twitter, a medium that permits only 140 characters per post. Barbara Natalizio, who attended a workshop at the Alan Alda Center for Communicating Science last year, emphasized the importance of starting with one's main point, something that scientists often don't do when communicating with each other. Emily Pearce took this idea the furthest, noting that when being interviewed by a journalist, you might only have one sentence in which to share your work!
Another theme was the importance of knowing one's audience. That audience might be a debate opponent (as in Paul Stob's public speaking courses), the viewing audience for a cable news program (as in some of Emily Pearce's examples), or an academic outside one's specialty (as in the case of the 3-Minute Thesis competition). Regardless, communicating complex ideas requires explaining those ideas in ways that one's audience can understand–and that requires knowing one's audience.
Below you'll find my sketchnotes for the event, which should provide a sense of the communication strategies shared. For another visual take on the event, see the visual notes taken by Peter Durand, a graphic facilitator who has collaborated with the CFT in the past. See also the Prezi I used for my short presentation at ShareFest, focusing on the use of visual metaphors to communicate ideas.