Student as Producer: Poverty in the US: How Education Becomes a Scapegoat
By Nayana Bose, CFT Graduate Teaching Fellow
The CFT's "Students as Producers" theme year culminated in our end-of-year event, the Celebration of Learning. As a part of the celebration, an exhibition of 25 student projects from all four undergraduate schools showcased a wide variety of student work. This series of blog posts highlights some of the student projects from the exhibition.
---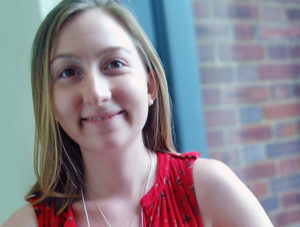 Student: Julia Konrad
Project: Poverty in the US: How Education Becomes a Scapegoat
Faculty Sponsor: Dr. Barbara S. Stengel
For her final project in an education course on poverty in the United States, Master's student Julia Konrad produced a digital video that explores how education and poverty are discussed in popular media.  Prior to the course, Julia had found it frustrating to hear the US education system blamed for the incredible inequity found throughout the country.  She knew the relationship between education and poverty was a complex one.  The course, EDUC 3050: Poverty in the US, taught by education professor Barbara Stengel, discussed the philosophical foundations of education, and Julia was surprised when she realized that current discussions about poverty stemmed from these very foundations. This led Julia to focus her final project on these philosophical foundations, with particular attention to how poverty is phrased as an individual or collective responsibility in popular media. Julia says that "this project provided a valuable opportunity to apply the philosophical framework we had learned in our course to a very pressing issue I saw in my profession."
For the project she created a digital video incorporating images and clips from popular media along with her own words and voice.  This required her to learn how to use the video editing software iMovie and the video sharing site YouTube – and all the quirks associated with the technology. She not only learned new technical skills but also realized that arguments can sometimes be made more effectively when presented through a multimodal medium like digital video. Having an authentic audience (her fellow students as well as anyone visiting her YouTube channel) was important. "In creating the video," Julia says, "I felt compelled to stake a claim, contributing my own perspective within a larger discourse. I don't think I would have felt this motivation through a research paper or a traditional essay that has an audience of one teacher." The research project has allowed Julia to position herself as a future educator within a larger discussion of poverty in the United States.