Students as Producers: Animating Organic Chemistry
By Nayana Bose, CFT Graduate Teaching Fellow
The CFT's "Students as Producers" theme year culminated in our end-of-year event, the Celebration of Learning. As a part of the celebration, an exhibition of 25 student projects from all four undergraduate schools showcased a wide variety of student work. This series of blog posts highlights some of the student projects from the exhibition.
---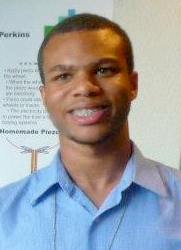 Student: Troy Morrow
Project: CHEM 218A
Faculty Sponsor: Dr. Jeffrey Johnston
Why is organic chemistry useful?  This question was posed by chemistry professor Jeffrey Johnston to students in his recent organic chemistry course. Professor Johnston didn't simply answer this question for his students; instead, he asked them produce and share their own answers to the question through digital stories. One of those students was first-year undergraduate Troy Morrow, whose answer took the form of an animated PowerPoint presentation that explained the concept of chirality of organic molecules for a general audience.
Troy used tools with which he was already familiar – Microsoft's PowerPoint and Paint programs – but learned about features and intricacies of these technologies that were entirely new to him. Each slide in his 165-slide PowerPoint deck is a "frame" in the resulting animation. By advancing through the PowerPoint deck, Troy's explanation of chirality comes alive.
Troy realized that the key to getting people to pay attention to an animation like his is to relate something unknown and complex (like chirality) to something understand and familiar.. His animation features a baseball glove analogy.  Baseball gloves all look similar, but left-handed and right-handed gloves are very different because each is made to fit a different hand. In the same way, chiral molecules come in "left-handed" and "right-handed" versions.  These versions are structurally similar, but can't be superimposed on each other. Two mirror images of a chiral molecule are called optical isomers, and they are like the right-hand and left-hand baseball glove.  Troy found that humor helps engage an audience, too, especially when the content is highly technical.  His animation is populated by jokes and whimsical characters.