Farewell to Nancy Chick
by Derek Bruff, CFT Director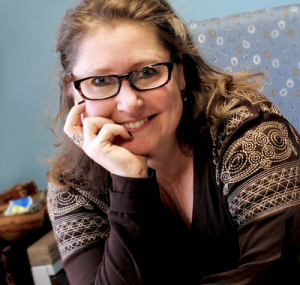 It is with mixed emotions that I share the news that Assistant Director Nancy Chick will be leaving the CFT in March to take a position at the University of Calgary. Nancy has been appointed University Chair of Teaching and Learning, and Academic Director of the Taylor Institute for Teaching and Learning at Calgary. She will also join the Faculty of Arts as a tenured full professor in English.
The Taylor Institute, created by a $40-million gift and an outcome of Calgary's strategic planning, will include the university's undergraduate research office, teaching center, and a new unit focused on the scholarship of teaching and learning. Nancy will create this new unit, oversee the other centers, run a teaching and learning grants program, and host an annual teaching conference, among other duties. The Calgary position is an incredible opportunity for Nancy, and a recognition of her experience collaborating with faculty members and graduate students, engaging in the scholarship of teaching and learning, and leading efforts to enhance student learning at Vanderbilt and many other campuses.
Nancy has done wonderful work at Vanderbilt since she arrived at the CFT in late 2011. She has mentored our Graduate Teaching Fellows, organized Teaching Assistant Orientation, facilitated the "Teaching, Writing, Learning" conversation series, launched the SoTL Scholars program and the Mellon Certificate in Humanities Education, and supported the development of new curricula in multiple departments, including her "home" department of English.
As impressive as these contributions have been, Nancy truly shines in two areas: in one-on-one teaching consultations with faculty and graduate students and in the scholarship of teaching and learning. She's consulted with dozens (hundreds?) of individual instructors at Vanderbilt, helping them to think more deeply about their students' learning, reflect critically on their own teaching, and make more intentional and effective choices as teachers.
Through her scholarship, including her work as co-editor of the journal Teaching & Learning Inquiry, she has had an impact on far more college and university teachers around the world. One can sample her writing by examining the teaching guides she has contributed to the CFT's website: Metacognition, Mindfulness in the Classroom, Teaching in Times of Crisis, Learning Styles & Preferences, Making Student Thinking Visible in the Humanities, and her comprehensive Guide to the Scholarship of Teaching and Learning. For a deep dive, take some time to read through her dozens of CFT blog posts.
It's been a joy to work with Nancy these past three years. She's a thoughtful, compassionate, and encouraging colleague, and she's brought a spirit of mindfulness and community to the CFT that has benefited our entire staff. Nancy has a PhD in English and I have one on mathematics, and we've often joked about the limitations of both words and numbers to reflect and describe the world. This is a moment where words are simply not enough to communicate my appreciation for Nancy, her work, and her friendship. Nancy, we're happy for you and this next step in your journey, but we'll miss you terribly.
As director of the CFT, I also have to be practical in moments like these. We're now accepting applications for an Assistant Director, one who will oversee our graduate student programs and support humanities education at Vanderbilt. If you or someone you know might be interested, please take a look at the position description. Applications are due March 2nd. We can't fill Nancy's shoes, but we will put her office to good use!