Upcoming Virtual Hangout Offers Information for Grad Students Interested in Working at the CFT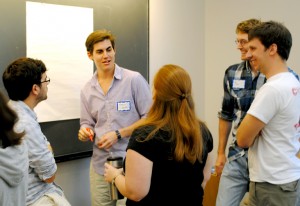 Attention, Vandy grad students! Do you enjoy teaching? Do you look forward to those days when your advisor is out of town and you can take over her class for a day? Are you interested in the research on teaching and learning? If you answered a resounding "yes!" to one or more of those questions, then I have just one more to ask: Have you ever thought about working for the Vanderbilt University Center for Teaching?
If you are interested in teaching and learning, exploring diverse aspects of higher education, and sharing your passion for the classroom with others, then the CFT may be a perfect fit. Lucky for you, employment opportunities for graduate students abound at the Center for Teaching! You should know, though, that the deadline to work at the CFT during the 2015-2016 year is swiftly approaching. Applications to be a Graduate Teaching Fellow, a Mellon Graduate Teaching Fellow, a WIDER Fellow, or a Teaching Affiliate are all due before 4pm on Monday, February 16th.
Perhaps you've got some questions you'd still like answered before you submit your application. Or, perhaps you've already submitted an application and know you're eager to learn more about life at the CFT. How about a virtual hangout with two current Graduate Teaching Fellows and former Teaching Affiliates Vivian Finch and Ben Galina? From 10-11am on Thursday, February 12th, Vivian and Ben will be chatting on Google Hangouts about their experiences with the CFT. If you are interested, head on over to this link at the time of the presentation.
Of course, there are myriad ways for graduate students to get involved with the CFT. We offer services that include class observations, small group analyses, and a certificate program in college teaching. Check out this website for more information!
Any questions leading up to the event can be sent to Vivian Finch or Ben Galina . We look forward to seeing you there!