Junior Faculty Spotlight: Jannyse Starks
Each month, the CFT Newsletter highlights the work of our Junior Faculty Teaching Fellows. This month, Jannyse Starks talks about her teaching philosophy and interests.
I teach in Vande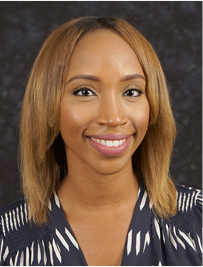 rbilt University School of Nursing's (VUSN) Family Nurse Practitioner (FNP) program. Through the FNP program, we prepare registered nurses to provide comprehensive primary care to individuals across the lifespan. I am course faculty in advanced health assessment and application, advanced pharmacotherapeutics and clinical practica. I coordinate one section of the Context of Primary Care for students pursuing dual certification in family and midwifery or emergency practice.
My philosophy of teaching has been shaped by the student population that I teach. As an instructor of adult learners, it is important for me to recognize the unique qualities that each individual brings based on their own personal life experiences. This recognition helps to shape a diverse learning environment. This is especially true in preparing students for clinical settings. Graduate nursing students may desire a strong understanding on how classroom learning will correlate with clinical practice as a student and beyond. Therefore, it is important to create assignments and facilitate discussions that are practical and representative of what may be seen in practice.
Aligned with VUSN's mission and vision, I have a passion to increase diversity and inclusivity in the classroom and beyond. My desire is to ensure that the learning environment promotes trust, understanding, and mutual respect. To that end, it is also my goal to encourage students to be cognizant of the diverse patient population that they will encounter during their clinical practica and in practice. To help with this, I am a co-facilitator of the Community Action Poverty Simulation, which is designed to increase awareness of the realities of poverty. I believe that it is critical that health professional students and providers are aware of the impact that implicit bias has on their ability to competently care for patients.
My goals in teaching are to foster life-long learners as well as promote the advancement of advanced practice nursing. I work hard to achieve this in my teaching strategies and relationships developed with students. I believe recognizing the differences in students' life experiences coupled with a safe, respectful and inclusive classroom are vital in developing an effective and successful learning environment.