Celebration of Learning Spotlight: Reading Between the Lines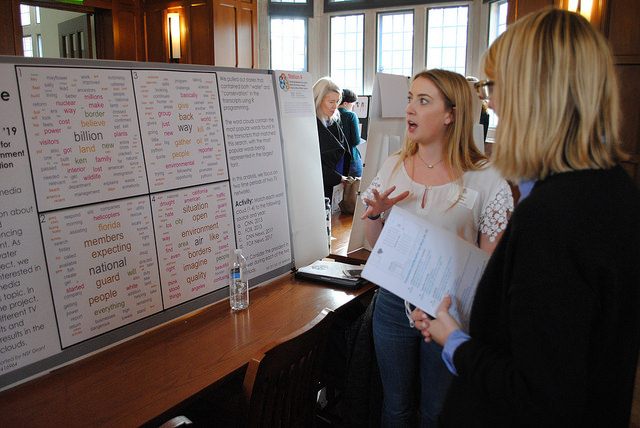 When the chance to conduct independent research arose, engineering student Allison Witte accepted the opportunity and developed her own project. Entitled Reading Between the Lines: What the News is Really Saying About Water Issues, the project focused on water conservation and how the news conveys information about water quality and issues to the public. The project was developed for the Vanderbilt Institute for Energy and Environment under the guidance of Dr. George Hornberger, and it focused on the questions of why water conservation is important and how water conservation interacts with the public. Allison identified that potential answers to these research questions were more complicated and nuanced than a quantifiable number could provide and sought out a more qualitative approach to generate data.
Allison's project used an approach known as text mining. In this case, the text mining method used a code that scanned television news abstracts and selected all aticles pertaining to water and water conservation. Then the code developed a word cloud of the words used in all of those abstracts, allowing themes from the news articles to emerge about how information relevant to water conservation was presented to the public. Next, Allison focused on comparing these word clouds and data between different areas of the United States. "We wanted to ask how does the way that the public engages and interprets information on water conservation… vary based on where you live in the country."
Aside from generating data on how water conservation is discussed in the public news all over the country, Allison also points out that this project has been a great learning experience for her as a researcher. She mentioned that research requires careful consideration and thoughtfulness at every level to reduce biases and to keep the overall goal of the project in mind, saying "I think that's been the biggest learning curve about all of this, but I'm getting better at it, and I'm really excited." Allison further adds that the project is still ongoing with the ultimate goal of submitting a paper for publication sometime in the future.
Student(s): Allison Witte
Project: Reading Between the Lines: What the News is Really Saying About Water Issues
Course: CEE: Independent Study
Faculty Sponsor: George Hornberger, Ph.D.; Engineering, Civil, and Environmental Engineering
---