The CFT acknowledges these junior faculty who participated in the JFTF program this year!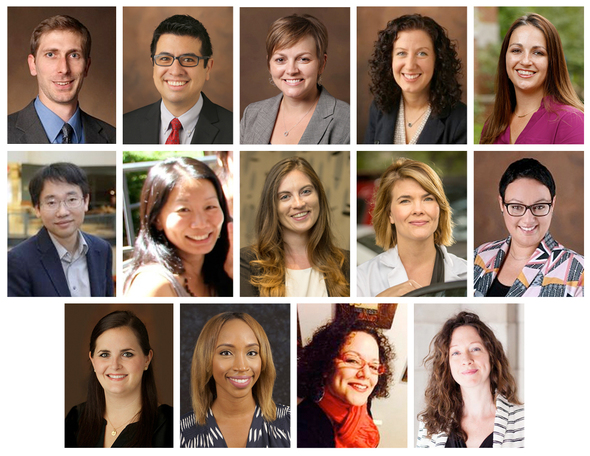 Left to Right: Brett Byrum (Biomedical Engineering), Christopher Caldelaria (Leadership, Policy, and Organizations), Teresa Dunleavy (Teaching & Learning), Nicolette Kostiw (Center for Latin American Studies), Kanah Lewallen (Nursing), Shihong Lin (Civil and Environmental Engineering), Michiru Lowe (Asian Studies), Sara Mayeux (Law), Natasha McClure (Nursing), Marzia Milazzo (English), Mary Lauren Pfieffer (Nursing), Jannyse Starks (Nursing), Claudine Taaffe (African American Diaspora Studies), and Carol Ziegler (Nursing)
---
We are now accepting applications for the 2018-19 Junior Faculty Teaching Fellows program. Tenure-track and non-tenure track, full-time faculty who will be in their second through sixth year in 2018-2019 are eligible to apply. Fellows will participate in a series of faculty development opportunities designed to enhance their teaching and build their teaching community. They will also receive $2000 in research funds each to be used to enhance their teaching.
For more details on the program or to apply, visit the JFTF webpage.
Application Deadline: Wednesday, May 16th
---