Junior Faculty Spotlight: Issam Eido
Each month, the CFT Newsletter highlights the work of our Junior Faculty Teaching Fellows. This month, Issam Eido, Religious Studies, talks about his teaching philosophy and interests.
---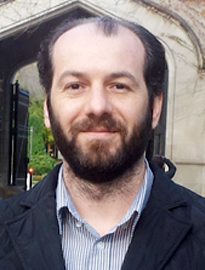 I am a senior lecturer at the department of Religious Studies and a former Visiting Professor of Islamic Studies and Arabic at the University of Chicago Divinity School and fellow of Neubauer Collegium for Culture and Society at U of Chicago (2013-2015). In 2012, I was a Fellow of the "Europe in the Middle East/Middle East in Europe" Research program at the Forum Transregionale Studien in Berlin (affiliated with Corpus Coranicum).
My research generally focuses on the Qur'an in late antiquity, Hadīth Studies, Sufism, and Arabic language. My teaching interests focus on Modern and Classical Arabic language, Arabic Literature, Islamic Studies, and Qur'ānic Arabic. Prior to the Syrian uprising, I served as a lecturer in the faculty of Islamic Studies in the Department of Qur'an and Hadīth Studies at the University of Damascus.
My doctoral work, 'Early Hadīth Scholars and their Criteria of Hadīth Criticism,' presented a new understanding of the criteria used by Muslim scholars in accepting or rejecting traditions attributed to Muhammad and the transformations of that criteria from the classical to the modern period. Currently, my research focuses on the question of Authenticity and the shaping of authoritative Islamic texts among Muslim scholars in the Islamic formative period.
---