Exciting Changes to the Certificate in College Teaching Program!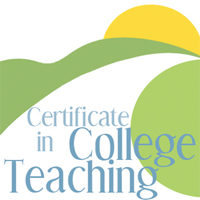 In Fall 2019, the CFT will be rolling out exciting changes to the Certificate in College Teaching (CiCT) program. Previously, we offered a Certificate in College Teaching (CiCT) and Certificate in Humanities Teaching and Learning (CHTL) for Vanderbilt graduate students and postdocs. The CHTL shared a lot of core features of the CiCT in order to cover foundational knowledge of teaching and learning. Given the overlap between the CHTL and the CiCT, we have decided to merge the two programs in order to streamline our program offerings and allow for more opportunities for professional development for all graduate students and postdocs following completion of the certificate. As such, all participants looking to receive training in college teaching will enroll in the CiCT program.
Upon completion of the CiCT, participants can specialize in specific areas in order to refine their foundational knowledge and skills within particular teaching contexts. We offer the following specializations: a) Online Teaching, b) Humanities Teaching, and c) STEM Teaching. Each section is open to anyone who has completed the CiCT, regardless of their discipline, and participants are eligible to earn multiple specializations.
These changes came about because we realized that it was a great benefit for CHTL participants to specialize in humanities teaching, and we noticed that some CHTL participants were also enrolling in the CiCT in an effort to receive additional training in college teaching. We wanted to allow all program participants to experience the benefits of receiving additional training in college teaching. In addition, this streamlines our offerings so that humanities grad students and postdocs do not experience unnecessary overlap across programs while also ensuring that they cover all essential components of the foundational knowledge and skills taught in the CiCT.
All Seminar, Practicum, and specialization sections will consist of 8 weekly sessions lasting 75 minutes in length. For participants who are unable to attend sessions that occur during the academic year, we will continue to offer a Summer Intensive Program. Participants in the Summer Intensive Seminar meet for 3 full days, followed by 2 full days for the Practicum. We will also offer the STEM Teaching Specialization and Humanities Teaching Specialization during the Summer Intensive Program, with each section lasting 3 full days.
Please see below for a snapshot of our offerings in 2019-2020.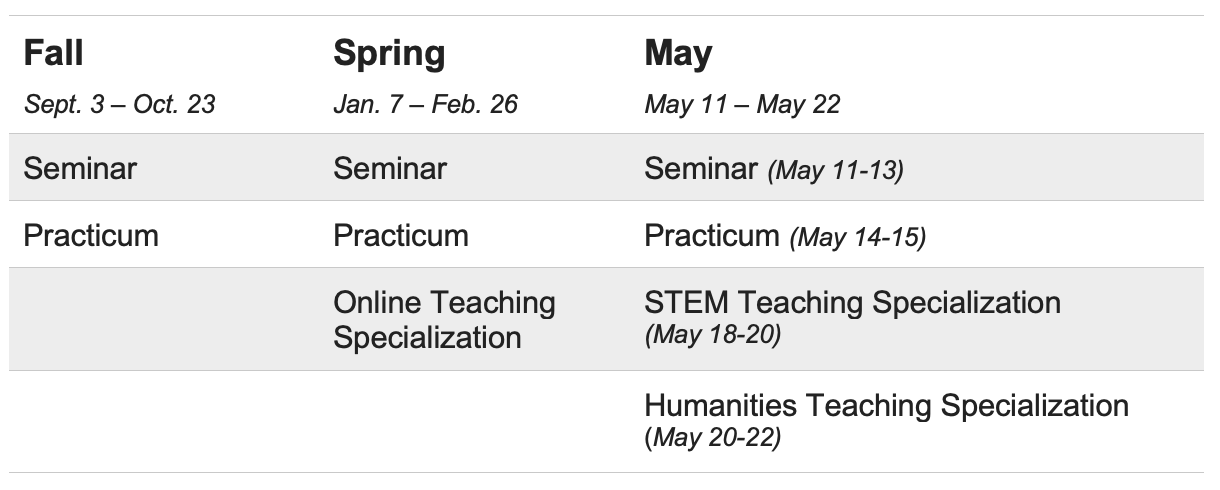 ---