CFT Proudly Welcomes the 2019 Cohort of Junior Faculty Teaching Fellows!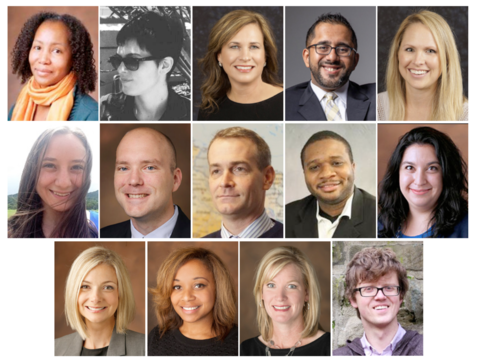 L to R: Audrey Bowden (Biomedical Engineering), Daniela D'Eugenio (French & Italian), Misty Evans (Nursing), Gautam Hans (Law), Brittany Haskell (Nursing), Allison Leich Hilbun (Biological Sciences), Clinton Leonard (Nursing), Elliott McCarter (Asian Studies), Justus Ndukaife (Electrical Engineering & Computer Science), Ipek Oguz (Electrical Engineering & Computer Science), Jennifer Ridgway (Nursing), LeTizia Smith (Nursing), Kim Steanson (Nursing), Denis Zhernokleyev (German, Russian and East European Studies)
---
The Junior Faculty Teaching Fellowship provides its recipients with a structured faculty development experience that includes consultations, a course design seminar, peer observations, and dinners with senior faculty. This program not only helps its fellows develop an understanding of best teaching practices across the disciplines, but also assists them in their professional growth by helping them hone their abilities to balance teaching and research, improve their materials for review, and build a collaborative culture of teaching at Vanderbilt.
The Center for Teaching thanks the School of Nursing for additional funding for this year's fellows.