The One Button Video Studio Set to Reopen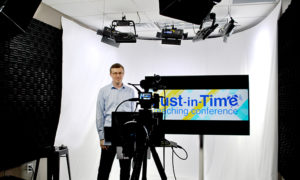 The Center for Teaching is excited to announce that the One Button Studio will reopen on June 1st as part of the university's phased reopening. In adherence with Vanderbilt's Return to Campus Plan, safety procedures will be followed, including the use of masks and physical distancing.                                                                                       
The One Button Studio (OBS), located in Room 801 of the Baker Building, is an automated video studio that faculty and other instructors can use to easily record high quality videos without any prior video production experience. The OBS will be particularly useful for faculty who want to create online content for their courses. More information about scheduling time in the studio and an example video can be found on at https://cft.vanderbilt.edu/obs/.
For ideas for using videos in one's teaching, visit the CFT's teaching guide on effective educational videos or consider participating in the CFT's Online Course Design Institute. For technical instructions creating screencasts via Kaltura or sharing videos with students on Brightspace, see our "Using Media on Brightspace" resource.