Adaptive Course Design: Preparing for Fall 2020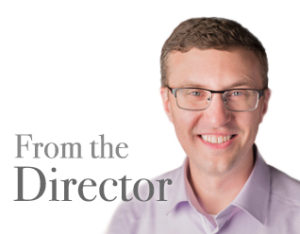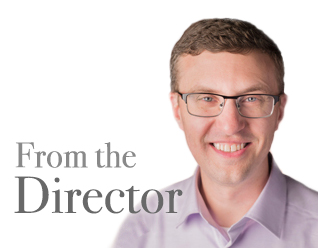 by Derek Bruff, Director
We launched the fifth offering of our 2020 Online Course Design Institute earlier this week. Previous offerings of the institute included faculty and other instructors planning online summer courses, but now most of our participants are looking ahead to the coming academic year with all its uncertainties. With that shift, I recorded a new welcome video for the institute, in part to connect the institute's online teaching focus to the kind of adaptive course design useful for higher education's challenging fall. I'm sharing the text of my remarks here on the blog, in the hopes that they will be helpful to other instructors looking ahead to August and beyond.
***
Welcome to the Center for Teaching's 2020 Online Course Design Institute. I'm Derek Bruff, director of the Center for Teaching and principal senior lecturer in mathematics. We launched this institute in May, knowing that Vanderbilt's summer course offerings would be online, and we wanted to do what we could to help prepare faculty for that online teaching.
As I record this, it's late June, and most of our institute participants are looking ahead to fall and spring courses. Some of you know you'll be teaching fully online, and so the goals of this institute line up well with the teaching you'll be doing this year. Some of you, however, aren't as sure what the upcoming semester will look like. Will you be teaching fully online? Face-to-face? Some hybrid of the two, where some of your students are in the classroom but masked and physically distanced, and others are participating via Zoom? Will you have students who can't attend class physically or virtually due to time zone differences or other reasons? And even if you know what the situation is for August, what might change over the course of the fall semester? What if we need to pivot our courses online again?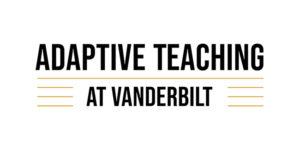 All this calls for what we might call adaptive course design, that is, designing courses that can adapt to the changing teaching contexts we're likely to face this year. And for that, I think you're still in the right place. I would advise you to consider planning your fall or spring course as a fully online course, where all the critical learning activities and assessments take place. To the extent that you can meet face-to-face with your students, let that be for supplemental activities—check-ins, reporting out, office hours, no-stakes practice and reflection activities. In the institute, you'll learn about some teaching strategies that might work in those face-to-face settings, even with physical distancing and remote-only students. But we need to be realistic about what will be possible in our face-to-face classrooms, and about the possibility of a need to move fully online. If we design for online first, we'll be in a much better place to adapt our courses to whatever teaching conditions we find ourselves facing in the coming year.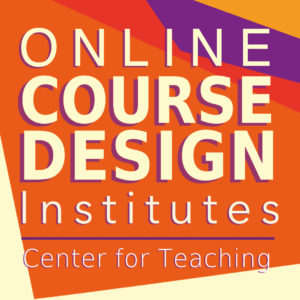 On that note, I want to suggest two takeaways from past participants of the Online Course Design Institute for you to keep in mind as you make your way through the institute these next two weeks. One is that the backward design approach we use in the institute, in which we articulate learning objectives and then align our learning assessments and learning activities with those objectives, can be very useful in rethinking a course to work fully online. Moving a course online isn't simply a matter of translating what you do in the classroom to the online environment; instead, it involves a rethinking of the goals of the course and finding useful ways to approach those goals using online methods and tools.
The second is that for decades, online teaching in higher education has been largely asynchronous. That is, there weren't videoconferencing sessions where students were expected to be online together at the same time. It's great that we now have that technology, and there's a lot we can do with synchronous online teaching. But there's also a lot we can do with asynchronous activities. In fact, that may be where you structure the bulk of your students' learning. As you participate in the institute, look for the ways we're leveraging asynchronous activities, and start thinking about what might work in your courses.
As instructors, we don't always get to choose the contexts in which we teach, and I would encourage those of you with concerns about the upcoming academic year to talk with your department chairs, program directors, and school deans about those concerns. Here at the Center for Teaching, our role is to help you figure out how to teach effectively in whatever teaching contexts you find yourself. As we look ahead to the fall, with physically distanced classrooms and remote-only students, please keep in mind that no one has taught under these conditions. This is new territory for us, for our colleagues at other institutions, and most especially for our students. Talk with your students about their experiences with this novel approach to learning, and be willing to change things if your initial strategies aren't working. Again, this isn't an ideal teaching environment, but most of 2020 has been less than ideal. If we approach our teaching this year with creativity and determination and collaboration, we can make the most of this challenging situation.
Thanks for jumping into the Online Course Design Institute. I look forward to learning from you and with you over the next two weeks.
To enroll in an upcoming offering of the institute, visit our Online Course Design Institute page. And click on "Preparing for Fall 2020" in the navigation bar at the top of this page for more resources for teaching this upcoming academic year.