Upcoming Conversations on Teaching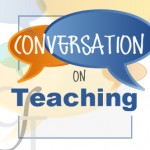 These sessions provide members of the Vanderbilt teaching community a chance to share their teaching experiences and learn from each other
in an informal, discussion-based format.
Teaching in a Hybrid and Physically Distanced Classroom
For some instructors, the classroom looks very different this fall. Some of their students are in the classroom, but masked and physically distanced. Some of their students are participating remotely during class via Zoom. Prior to this fall, no one had taught in these conditions. The Center for Teaching put together a number of resources this summer suggesting strategies for fostering active learning environments in the hybrid and physically distanced classroom. Now join us for an informal conversation about what's working and what's not. Plan to share your experiences teaching in these unusual conditions with your colleagues.
Date: Tuesday, September 8th
Time: 3-4pm
Location: Registrants will receive a Zoom link
REGISTER
Teaching with Perusall and Social Annotation
Asking students to annotate a class reading or video collaboratively can change how students engage with course materials and with each other. Perusall is a collaborative annotation tool recently adopted by Vanderbilt by many instructors who are exploring new approaches to online teaching this fall. How can instructors use Perusall and other social annotation tools to support student learning and build social presence in an online, face-to-face, or hybrid course? Join us for this informal conversation on teaching to share your experiences teaching with Perusall this fall and learn from other instructors experimenting with social annotation.
Date: Tuesday, September 15th
Time: 3-4pm
Location: Registrants will receive a Zoom link
REGISTER