From the Director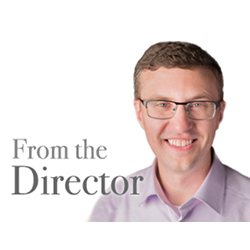 As I write this, the second strangest semester of my academic career is drawing to a close. The strangest semester was, of course, last spring, but this fall was certainly unusual and full of challenges for both teaching and learning. I am continually impressed at the creative and skillful ways the Vanderbilt teaching community has adapted to the online and hybrid environments we faced this fall.
This year has been challenging, but it's also been an opportunity to learn and grow as a teacher. Faculty and other instructors have figured out new ways to connect with and engage their students, and adopted technologies and pedagogies they'll continue to use when the campus returns to something like normal.
The Center for Teaching has helped in that effort. We saw 844 faculty participate in our programs and workshops between May and November, more than double our usual participation. That includes 451 participants in our Online Course Design Institute and various learning communities, more than five times the level of program participation over the previous year.
As we look ahead to another unusual semester in the spring, the Center for Teaching is preparing a number of resources to continue supporting the Vanderbilt teaching community:
The extended winter break will be a good time to learn about various educational technologies you might adopt in your spring courses, including Top Hat (enhanced polling tools), GoReact (feedback on student videos), Perusall (collaboratively annotated readings), Proctorio (online exam proctoring), and Gradescope (grading management for teaching teams). Visit cft.vanderbilt.edu or email cft@vanderbilt.edu for more information.
That said, I hope your break is restful! And know that the Center for Teaching will be ready to help as you prepare for spring courses.
-Derek Bruff, Director, Center for Teaching