From the Executive Director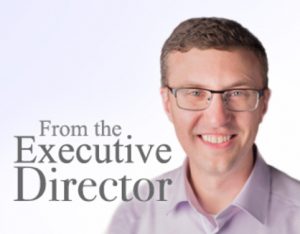 It is with mixed emotions that I share the news that long-time Center for Teaching staff member Rhett McDaniel is moving on to another position at Vanderbilt.
Rhett started at the CFT back in 2009 as our educational technologist, overseeing the center's internal technology needs. From the beginning, however, Rhett was an excellent faculty consultant, helping instructors select and learn technologies that integrated well in their teaching. Over time, Rhett took on more campus-facing roles, becoming a key player in CFT programs such as the Blended and Online Learning Design (BOLD) Fellows program, the Junior Faculty Teaching Fellows program, and our Course Design Institutes, among others.
In recognition of his changing role, Rhett was promoted to assistant director for digital media in 2019. He brought his expertise in audio and video production to CFT projects, including the Leading Lines podcast and the CFT's YouTube channel, and to the development of two digital media resources for the campus, the One-Button Studio and the Digital Media Lab. Rhett launched and managed our digital media services team, helping faculty and other instructors learn to create and use video, audio, and other digital media in their teaching.
Starting April 4th, Rhett will be the new director of course development and instructional technology at the Vanderbilt School of Nursing. Our loss is Nursing's gain! We will miss Rhett's good spirits, bad puns, and strong coffee, but we're glad to know Vanderbilt will continue to benefit from his experience helping instructors make the most of technology to support student learning. If you see Rhett, tell him congratulations on his new gig!
Derek Bruff, executive director, Vanderbilt Center for Teaching
---
.
.
.
.
.