Teaching Our Students to Think Critically
Special Event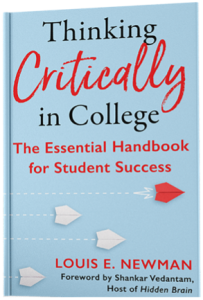 Teaching Our Students to Think Critically
with Louis E. Newman
October 31st, 12:00-1:30pm (lunch provided)
Center for Teaching, 1114 19th Ave South, 3rd Floor
We all want our students to become adept at critical thinking.  But what exactly do we mean by this, and how do we teach it?  In this session, we'll explore these questions and consider specific pedagogical strategies for helping undergraduates develop the habits of mind we expect of them.

Louis E. Newman is the author of Thinking Critically in College, and has served as the Dean of Academic Advising and Associate Vice Provost for Undergraduate Education at Stanford University, and was the Humphrey Doermann Professor of Liberal Learning and the Director of the Perlman Center for Learning and Teaching at Carleton College. He is now the John M. and Elizabeth W. Musser Professor Emeritus of Religious Studies at Carleton. He also is one of the country's leading scholars of Jewish ethics and the author of several previous books, including Repentance: the Meaning and Practice of Teshuvah (Jewish Lights 2010), Past Imperatives: Studies in the History and Theory of Jewish Ethics (SUNY Press, 1998) and An Introduction to Jewish Ethics (Prentice Hall, 2005), among others. He has been featured more recently in Inside Higher Education as well. We are grateful to have Dr. Newman join us for this special event.
If you are interested in attending, please register here.  Lunch will be provided.